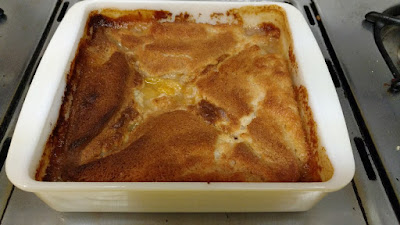 One of the great pleasures of midsummer is a rich and satisfying fruit dessert that makes the most of a sweet-tart bounty.

My favorite is this cobbler: easier than pie and flexible to what's ripe.

I discovered this recipe 35 years ago when I first started writing about food. "Blue Ribbon Peach Cobbler," which according to accompanying recipe notes won top prize at an unnamed state fair, was part of Ronald Johnson's wonderful "The American Table: A Festive Sampler of Regional Cooking at its Savory Best." Johnson encouraged readers to substitute other fruit or combinations for the peaches, which I have done often.

In honor of closing day of our State Fair, this Blue Ribbon Cobbler will win smiles at summer gatherings. (Just use the correct size pan.)

The example here uses yellow peaches and nectarines, peeled and sliced. Strawberry-rhubarb, peach-blueberry, apple-rhubarb, mixed berries; all these combos work well, as do straight peaches or other fruit.

The recipe itself looks out of whack with way more sugar than flour, plus lots of butter. That's what makes it delicious. The batter bubbles when it's spooned over the melted butter, and the fruit is dropped on top, not layered underneath. As the cobbler cooks, the fruit sinks down into the batter. The top and sides develop a rich, brown crunchy crust, wrapped around sweet-tart syrupy filling.

All that sinking and rising needs some room. Use a DEEP baking dish (3 inches preferred), not a shallow pie pan. Place a cookie sheet under the baking dish to catch overflow, just in case.

Blue Ribbon Cobbler
Adapted from "The American Table," by Ronald Johnson (Pocket Cookbook, 1984)
Serves 6 to 8

Ingredients: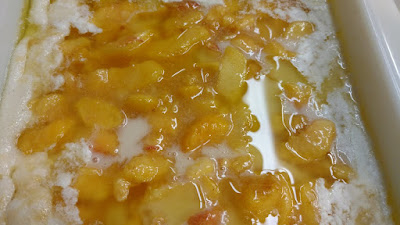 ½ cup unsalted butter (1 stick)
¾ cup flour
2 teaspoons baking powder
Pinch of salt
2 cups sugar (divided)
1/8 teaspoon freshly grated nutmeg
¾ cup milk
2 cups fresh fruit (such as peaches, nectarines, apricots, cherries, apples, strawberries, blueberries, blackberries, boysenberries, rhubarb or mixed)

Instructions:
Preheat oven to 350 degrees F.

Put the stick of butter in a deep, square baking pan (8- or 9-inch). Place pan in the oven and let butter melt as oven heats. (Remember to take it out.)

Meanwhile, mix flour, baking powder, salt, nutmeg and 1 cup sugar. Stir in milk to make a batter. Set aside.

Prepare fruit. If using peaches, nectarines or apples, peel and slice; halve and pit apricots or cherries; string and chop rhubarb; or hull berries.

Mix prepared fruit with remaining 1 cup sugar.

Pour batter over melted butter in pan. Spoon fruit evenly over the batter. Bake for 1 hour.

Serve warm with cream, whipped or plain.