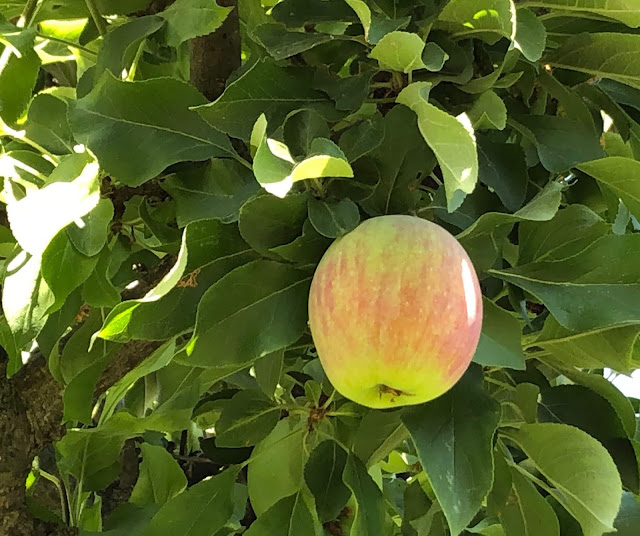 Apple season is here! Be sure to pick up any fallen fruit and fertilize your deciduous fruit trees. (Photo: Kathy Morrison)
This weather was made for gardening; time to get stuff done!
Take advantage of a cooldown.

The final weeks of summer are feeling a lot like fall, with high temperatures forecast in the mid 80s -- well below normal for this week in Sacramento.
Undoubtedly, you'll find plenty to do in your garden as plants are transitioning from hot summer to cool fall and winter.

Before you pull out those tomato plants and other summer favorites, notice if they're flowering and setting new fruit. Conditions for another round of tomatoes look ideal. If weather stays dry and mild, those bonus toms will be ripe in time for Thanksgiving.

* Weed, weed, weed! Lots of grasses and other invaders grew rapidly in August and may be now getting ready to bloom (if they haven't already). Pull them out before they have a chance to set and distribute seed.
* Compost annuals and vegetable crops that have finished producing.
* Cultivate and add compost to the soil to replenish its nutrients for fall and winter vegetables and flowers.
* Fertilize deciduous fruit trees.
* Pick up fallen fruit from apples and pears.
* Divide and replant bulbs, rhizomes and perennials.
* Dig up and divide daylilies as they complete their bloom cycle.
* Divide and transplant peonies that have become overcrowded. Replant with "eyes" about an inch below the soil surface.
* Plant onions, lettuce, peas, radishes, turnips, beets, carrots, bok choy, spinach and potatoes directly into the vegetable beds.
* Transplant cabbage, broccoli, kale, Brussels sprouts and cauliflower as well as lettuce seedlings.