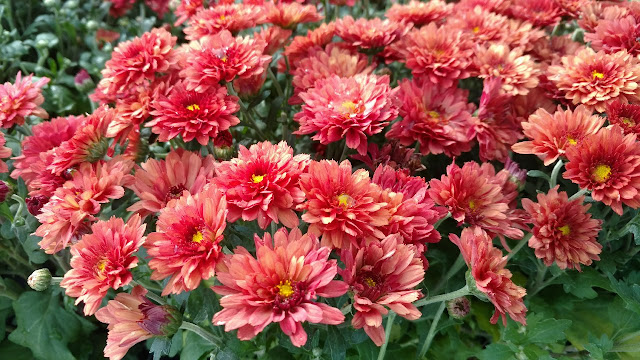 Colorful chrysanthemums will be featured during Green Acres' Fall Festival. (Photos: Debbie Arrington)
All five locations offer old-fashioned family fun, garden style
Get your garden into full-out fall mode. This free fest offers plenty of ideas, plants and products – in five locations – plus family fun, too.
On the first Saturday of the new season, Green Acres Nursery & Supply hosts its annual Fall Festival with live music, games, pumpkin patches, face painting, balloons and more.
The celebration runs from 10 a.m. to 5 p.m. Saturday, Sept. 28. Admission and parking are free.
DIY Workshops will show how to make a mini-pumpkin centerpiece, perfect for fall holiday entertaining; course fee and materials, $7.50. Raffles and pie walks offer free prizes for patrons.
Experts will be on hand to provide advice on beekeeping, irrigation, fall planting and tools. Demonstrations and workshops vary by location; check details online at
www.idiggreenacres.com
.
At the Elk Grove nursery, two food trucks – I Scream Yogurt and Dapper Demand hot dogs – will serve lunch and snacks to shoppers. Other refreshments will be offered at each store.
Fall is for planting. Find a huge selection of chrysanthemums and fall favorites.
Green Acres has locations in Sacramento (8501 Jackson Road), Elk Grove (9220 E. Stockton Blvd.), Folsom (205 Serpa Way), Rocklin (5436 Crossings Drive) and Roseville (901 Galleria Blvd.).
Details and directions:
www.idiggreenacres.com
.