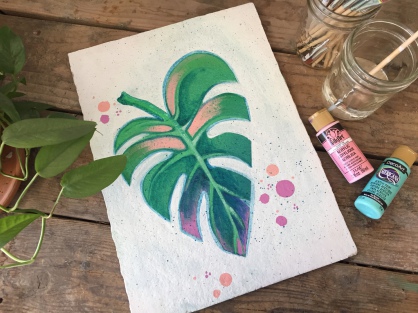 Monstera is the appropriate theme of the paint-a-plant workshop at The Secret Garden on Saturday. (Photo courtesy The Secret Garden)
The Secret Garden offers three this week
In the mood for some Halloween-inspired garden fun? The Secret Garden in Elk Grove will host three workshops this week in tune to the season.
Thursday, Oct. 24, create a creepy place to plant something during the "Unhappy Hour Cemeterrarium" workshop. At 6 p.m., learn how to make a terrarium with a Halloween edge, such as a mini desert scene with skulls.
Discover tricks of putting together a succulent terrarium while enjoying some treats. For the $39 class fee, container, soil, rocks and plants are provided with a discount coupon toward extra decorations. Snacks and beverages are provided; bring your own adult beverage if desired.
At 10:30 a.m. Saturday, Oct. 26, a paint-a-plant workshop will focus on Monstera, a tropical favorite with an evocative name. Local muralist Macy Martinez will teach how to create an all-weather piece of art. The $59 class fee covers all materials and instruction. Coffee, tea and doughnuts will be served.
At 10:30 a.m. Sunday, Oct. 27, "Mosaic 101: Cactus" offers another artistic medium for garden art. Create an 8-inch mosaic of this prickly subject. The $50 registration fee covers all materials and instruction for this three-hour workshop. Bring a snack for break time. This is a messy class, so dress appropriately.
The Secret Garden is located at 8450 W. Stockton Blvd., Elk Grove. To reserve a spot, sign up at:
www.secretgarden-online.com/workshops/