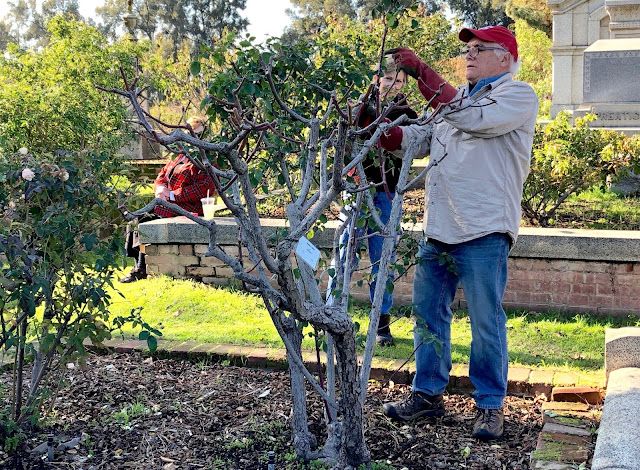 Stephen Scanniello prunes a mature Sutter's Gold rose during his 2019 workshops at the Sacramento Historic Rose Garden. He'll return in January; tickets to attend are now available. (Photo: Kathy Morrison)


Help prune public gardens or just learn pruning techniques
Your spanking-new 2020 calendar is about to get a workout. January is packed with winter garden events, as gardeners turn their attention to the coming growing season.
First up, of course, are pruning demonstrations and prune-athons. We listed some Sacramento County and Roseville events
earlier in the blog
; the ones below are in addition to those.
-- 9 a.m. to noon, Saturday,
Jan. 4,
McKinley Rose Garden, 601 Alhambra Blvd., Sacramento. The Friends of East Sacramento members and other volunteers will be busy pruning this 1,200-bush rose garden. Open to all. Bring gloves and bypass pruners. Information: friendsofeastsac@aol.com
-- 10 a.m. to 1 p.m., Saturday,
Jan. 4,
Natomas Rose Garden, 2921 Truxel Road, Sacramento. Located next to the South Natomas Public Library, this garden holds more than 500 rose bushes. Bring gloves and wear thorn-resistant clothes. Rain cancels. Reserve a spot via the garden's Facebook page
here
. Additional pruning dates, at the same time, are
Jan. 11
and
Jan. 25
.
-- 8:30 a.m. to 1 p.m., Saturday,
Jan. 11,
Maidu Center, 1550 Maidu Drive, Roseville. The Sierra Foothills Rose Society holds its annual (mostly indoor) winter rose care workshop and chili cookoff. You usually can find master rosarian Baldo Villegas showing off his super-fast rose pruning techniques. Public welcome. Questions: owendyk@gmail.com
-- 9 a.m. and 1 p.m., Saturday,
Jan. 11,
Sacramento Historic City Cemetery's heritage rose garden, 1000 Broadway, Sacramento. Stephen Scanniello, president of the Heritage Rose Society, returns to Sacramento for two rose pruning workshops. Scanniello is not only a rose expert but also endlessly entertaining, with stories of roses and rose gardens connected to celebrities. In the morning workshop, he will show how to prune climbing roses. The afternoon workshop will show techniques for pruning and maintaining mature bushes. Tickets are $10 per workshop, available
here
. Proceeds benefit the Heritage Rose Foundation and Sacramento Historic Rose Garden. More information:
www.cemeteryrose.org
.
-- 10:30 a.m. to noon, Saturday,
Jan. 11,
fruit tree pruning workshop, Polestar Farm, 25491 County Road 21A, Esparto. Presented by the Yolo County master gardeners and the Friends of the Esparto Public Library, this hands-on workshop covers fruit tree pruning, common fruit tree pests and techniques for keeping fruit trees healthy. Rain moves the event to the library. Free. Information:
yolomg.ucner.edu
-- 10 a.m. to 11 a.m., Saturday,
Jan. 18
, rose pruning workshop, Woodland Community College, 2300 East Gibson Road, Woodland. Yolo master gardeners Maryellen Mackenzie and Janet Branaman will teach dormant rose pruning techniques and rose care. Free. Information:
yolomg.ucanr.edu
-- 10 a.m. to 11:30 a.m., Saturday,
Jan. 18,
rose and ornamental shrub pruning workshop, Davis Central Park gardens, Third and B streets, Davis. Rain moves the event to the Bicycling Museum. Techniques for rose and ornamental pruning, taught by UCCE master gardeners of Yolo County. Free.
yolomg.ucanr.edu
That's a good start! We will have plenty more events to tell you about soon.
-- Kathy Morrison