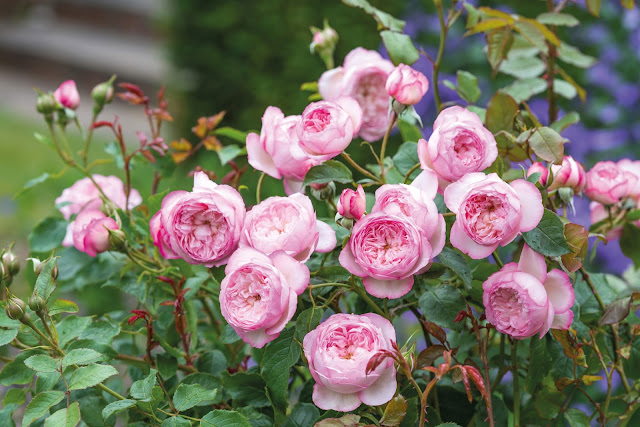 This beauty is The Mill on the Floss rose, named for a George Eliot novel. (Photos courtesy David Austin Roses)

Austin introduces a surprising trio
With a new year comes new roses. Among the most interesting introductions for 2020 are three new varieties from David Austin Roses. Each has evocative names to match their individual charms: Emily Bronte, Tottering-by-Gently and The Mill on the Floss.
Austin roses have won fans worldwide for their fantastic scent and abundant blooms. Hybridized in England and grown in Texas, these English shrub roses have become right at home in Sacramento, where they thrive virtually disease-free. Sometimes they like it too much; Austin shrubs tend to get very large, often 6 feet tall and almost as wide. Give them room to show off.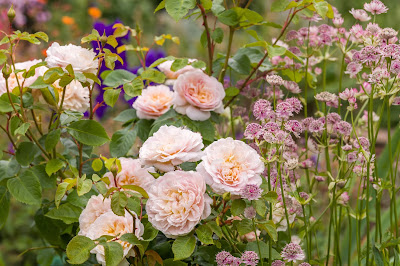 The Emily Brontë rose has a transitional fragrance profile.
These new introductions tend to be more compact for today's smaller gardens. (At least according to the catalog.)
At first blush, Emily Brontë -- named for the the author of "Wuthering Heights" -- reminds me of Tamora, an Austin classic that I grow. It's a similar mix of soft pink and apricot. But Emily's blooms have a different, more compact form: flat and intensely packed with 100 petals, about 3-1/2 inches across. Its golden apricot center petals surround a button eye, a unique Austin trait.
"Emily Brontë is a tiptop choice for virtually any color and design scheme," said Michael Marriott, David Austin Roses Ltd. technical director and senior rosarian. "Its soft colors go with everything. And the beautifully formed bush is sized and suited for use in an informal or formal garden, hedge or large container."
Tottering-by-Gently doesn't look anything like most Austin roses. Instead of 100 petals per flower, it has five. But those flowers are set in large generous sprays with a musky fragrance "with a note of orange peel," according to Marriott.
The Mill on the Floss is an English rose fantasy: Deeply cupped, the dense 3-inch blooms are each packed with 100-plus pale pink petals edged in carmine red. The fragrance is sweet and fruity.
"These delicate-looking beauties are exceptionally strong shrub roses that bloom their hearts out, early summer 'til frost," Marriott said.
Together, they reflect the remarkable diversity of flower forms found within the Austin breeding program, according to the Austin press introduction.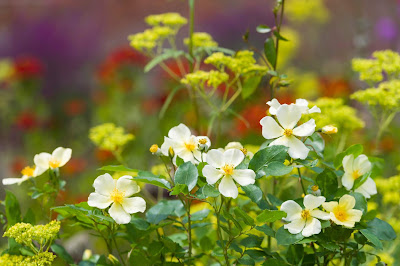 Tottering-by-Gently is named for a British cartoon series.
"Each also exemplifies the 'must have' attributes of all English Roses: overall charm and beauty in combination with romantic flower color, individuality and fragrance; a full beautiful bush; abundant bloom; quick repeat flowering; superior disease-resistance and adaptability to a wide range of different growing conditions, including colder areas plus hot/humid and hot/dry settings."
But how did they get those names?
Emily Brontë  is among England's most famous novelists. "Wuthering Heights" was published in 1847 -- when Old Garden roses were very much in fashion. In fragrance, Emily Brontë the rose delivers an unexpected plot twist, said the release. "The flowers open with a fine, heady Tea fragrance. In mid-bloom, the Tea scent wanes and Old Rose comes on strong, followed by teasing hints of lemon and grapefruit."
"In the garden, the effect is magical. A rose fragrance that transitions from Tea to Old Rose is completely unexpected," said Marriott, who added that he cannot think of a single other rose that presents a similar fragrance scenario.
The Mill on the Floss is named not for an author but a novel, by English writer George Eliot (the nom de plume of Mary Ann Evans), published in 1860.
With its wildflower look, Tottering-by-Gently is named for a British cartoon series by artist Annie Tempest, which has appeared weekly, since 1993, in Country Life magazine.
Find out more at
www.davidaustinroses.com
.