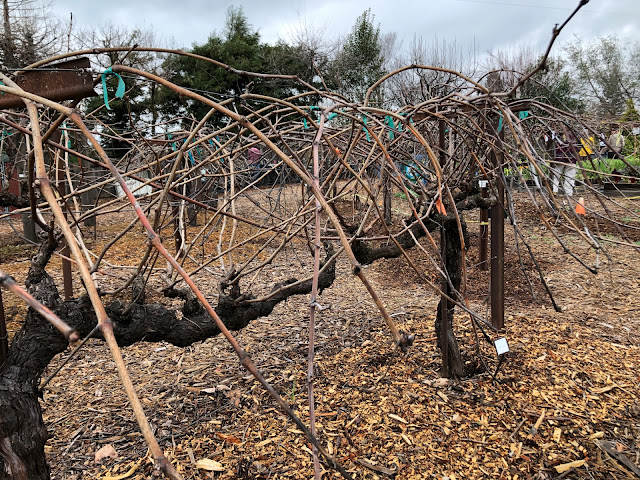 Pruning grapevines can be intimidating, but the master gardeners are ready to offer guidance. This is part of the vineyard at the Fair Oaks Horticulture Center. (Photos: Kathy Morrison)
Master gardeners offer tips for trees, grapevines, roses
Unsure how to proceed with pruning the pear tree? Or the grapevine? Or those rose bushes?
The Sacramento County master gardeners are ready to rescue the reluctant pruner. From 9 a.m. to noon Saturday, Jan. 18, they will present free consecutive pruning workshops at the Fair Oaks Horticulture Center:
-- 9:15 to 10 a.m., "Pruning Dormant and Overgrown Fruit Trees," in the orchard area.
-- 10:15 to 11 a.m., "Pruning Grapes," in the vineyard. Cane and spur pruning as well as double pruning will be demonstrated.
-- 11:15 a.m. to noon, "Pruning Roses," along the fence between the vineyard and the WEL gardens.
Master gardeners also will be working in other areas of the Horticulture Center during the morning, ready to answer questions.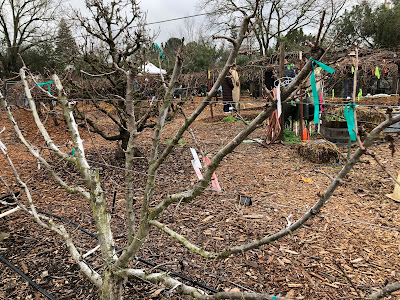 Bring orchard questions to the Horticulture Center on Saturday.
In the herb garden, the focus will be on planning. The vegetable garden experts will be ready to talk cool-season crops. In the WEL (Water-Efficient Landscape), the master gardeners will have tool tips. Pruning tips for blueberries and cane berries will be available in the berry area. Orchard crew members will have information on citrus harvesting and frost protection, as well as cutting scions for grafting. The compost experts will show how to build and turn the compost pile.
The Ask the Master Gardeners table will be staffed, and the UCCE Master Food Preservers also will have an information table. And if you meant to purchase a 2020 Gardening Guide and Calendar but never got around to it, you still can do so during the event; price is $10.
The Fair Oaks Horticulture Center is at 11549 Fair Oaks Blvd., south of the Fair Oaks Library off Madison Boulevard, Fair Oaks.
For more information on the UCCE Master Gardeners or the Horticulture Center, visit
sacmg.ucanr.edu