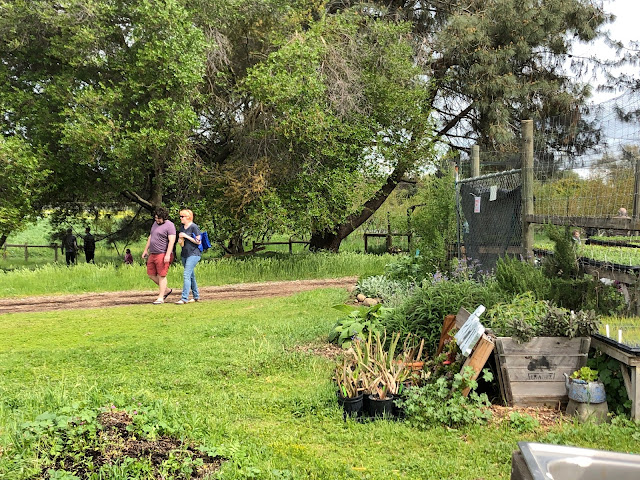 It may not be shorts weather this weekend, but Soil Born Farms' American River Ranch still will be a lovely place
to stroll Saturday. (Photo: Kathy Morrison)
Fun gardening events around the region this weekend
Another sunny weekend is heading our way. If you haven't already made plans for Saturday, Feb. 8, you might want to check out these events:
-- Second Saturday Open Garden Day at the Sherwood Demonstration Garden, 6699 Campus Drive, Placerville, 9 a.m. to noon. The garden, run by the El Dorado County master gardeners, will be open for roaming. Discover the beauty of the 16 individual gardens. Docents will be available to answer questions. Free, but parking at the site (part of the Folsom Lake College El Dorado Center) is $2, exact change required.
-- Rose Pruning Demonstration. It's still pruning season, especially for foothill gardeners. If you visit the Sherwood Demonstration Garden in the morning, stick around from 1 to 4 p.m. for the free demonstration by Master Gardener Eve Keener. (You'll already have paid for parking, after all.) For more information on the El Dorado County master gardener offerings, go to
mgeldorado.ucanr.edu
.
-- Family Nature Walk at Soil Born Farms, 2140 Chase Drive,  Rancho Cordova. Starting at 9 a.m. until about 11 a.m., naturalist Cliff Hawley will lead a walking tour of the American River Ranch, exploring plants, animals and relationships among them that make up the ranch environment. Family friendly, but recommended for kids ages 5 and older. $10 tickets; proceeds support the American River Ranch Restoration and Development Fund. Information and tickets
here
. Soil Born also will be open for Saturday at the Farm, from 9 a.m. to 1 p.m., with cooking demonstrations, fresh produce for sale, live music and kids Valentine's Day activities, among other offerings.
www.soilborn.org
-- Grape Pruning Workshop, at Woodland Community College, 2300 E. Gibson Road, Building 400, 10 a.m. to 11:30 a.m., offered free by the Yolo County master gardeners. Doug Mackenzie will present strategies for developing vines from recently purchased plants to fully developed vines, and for pruning fully mature vines. Participants will be able to experience pruning vines at the WCC demonstration garden after the lecture. Bring clippers and/or mini-loppers. Information
here
.
-- Backyard Chickens Workshop, at the Esparto Regional Library,  17065 Yolo Ave., Esparto, 10:30 a.m. to 11:30 a.m. The free workshop, also a presentation of the Yolo County master gardeners, will cover the basics of keeping chickens. All the offerings by the UCCE master gardeners of Yolo County can be viewed at
http://yolomg.ucanr.edu/
And see our posts from earlier this week on two other Saturday events: the
Open Garden at the Fair Oaks Horticulture Center
and the
Weavers and Spinners show
at the Shepard Garden & Arts Center.
-- Kathy Morrison