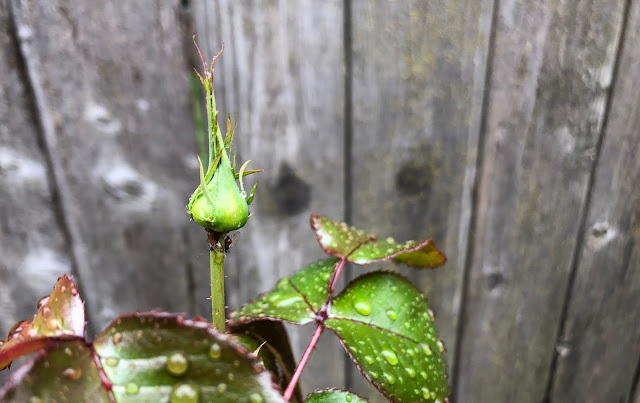 Those nice fat early-season rosebuds are starting to draw aphids and other pests. A strong spray of water or "bug soap" will knock them off. (Photos: Kathy Morrison)
Rain makes for easier digging; watch out for fast-growing weeds
The rain finally came! It's probably not a "March miracle," but our gardens certainly appreciate the moisture.
This rain will help soften the soil and make it easier to dig. That's a good thing; weeds need to be pulled and seedlings need to be transplanted.
After several days of record heat, temperatures have cooled back down to normal for March, meaning days in the 60s and overnight lows in the 40s.
Most plants have already started their rapid spring growth, which means look out for aphids.
If aphids are sucking on those green sprouts and buds, knock them off with a strong spray of water or insecticidal soap.
To make your own "bug soap," use 2 tablespoons liquid soap -- not detergent -- to 1 quart water in a spray bottle. Shake it up before use. Among the liquid soaps that seem most effective are Dr. Bronner's Pure-Castile Soaps; try the peppermint scent.
Other tasks for your garden to-do list: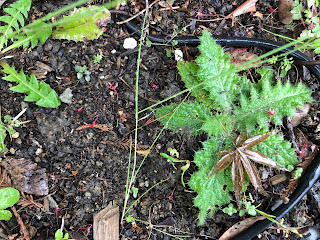 Pull or hoe weeds before they get too big.
* Pull weeds now! Don't let them get started. Take a hoe and whack them as soon as they sprout.
* Prepare vegetable beds. Spade in compost and other amendments.
* Prune and fertilize spring-flowering shrubs after bloom.
*Feed camellias at the end of their bloom cycle. Pick up browned and fallen flowers to help corral blossom blight.
* Feed citrus trees, which are now in bloom and setting fruit. To prevent sunburn and borer problems on young trees, paint the exposed portion of the trunk with diluted white latex (water-based) interior paint. Dilute the paint with an equal amount of cold water before application.
* Feed roses with a balanced fertilizer (such as 10-10-10, the ratio of nitrogen, phosphorus and potassium available in that product).
* Seed and renovate the lawn (if you still have one). Feed cool-season grasses such as bent, blue, rye and fescue with a slow-release fertilizer. Check the irrigation system and perform maintenance. Make sure sprinkler heads are turned toward the lawn, not the sidewalk.
* In the vegetable garden, transplant lettuce and cole family plants, such as cabbage, broccoli, collards and kale.
* Seed radishes, chard and beets directly into the ground.
* Plant summer bulbs, including gladiolus, tuberous begonias and callas. Also plant dahlia tubers.
* Shop for perennials. Many varieties are available in local nurseries and at plant events. They can be transplanted now while the weather remains relatively cool.