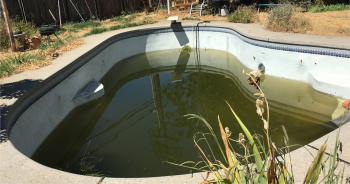 One neglected pool can produce millions of mosquitoes. Report a neglected pool to the district hotline at
1-800-429-1022.
(Photo courtesy Sacramento-Yolo Mosquito and Vector Control District)
Use time at home to inspect for threats
Hear the buzz? Recent warm weather (after a little spring rain) brought out the mosquitoes – just in time for Mosquito and West Nile Virus Awareness Week.
The annual observance, scheduled for April 19-25, serves as a major educational campaign by the Sacramento-Yolo Mosquito and Vector Control District. Since public health is on everyone's mind these days, the emphasis this year is the health risks associated with mosquitoes.
They don't spread COVID-19; that's one good thing. But this notorious pest can transmit several debilitating and potentially deadly diseases such as West Nile virus, which has become a constant threat in California.
"Also of concern is that last year, the invasive mosquito
Aedes aegypti
was detected in different areas of Citrus Heights within Sacramento County," says the district. "Invasive mosquitoes pose a significant health threat because they are capable of transmitting dangerous viruses including Zika, dengue fever and chikungunya."
We're heading into prime mosquito season. Temperatures are expected to hit the 80s for several days, starting later this week.
"As temperatures warm up, conditions will be perfect for mosquitoes to thrive," said district manager Gary Goodman.
While sheltering in place, inspect your garden for potential mosquito breeding grounds.
"We are all spending most of our time at home, so remember to drain any water from flowerpots, bird baths, tires, dog dishes and other small sources where water can accumulate and breed mosquitoes," Goodman said. "Reducing mosquitoes now will go a long way later in the season."
Details and more mosquito-fighting tips:
www.fightthebite.net
.