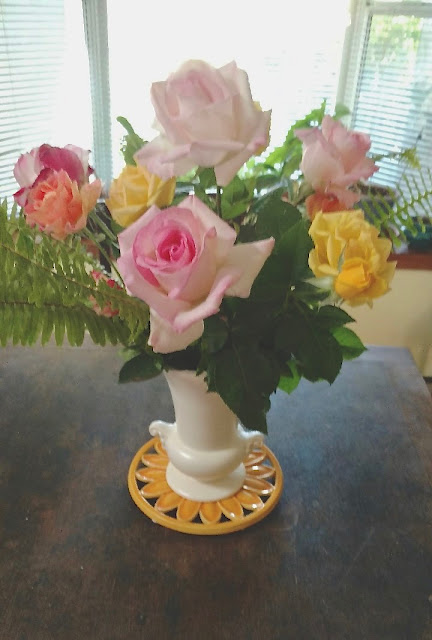 Pink Promise and Secret roses take center stage in this mixed bouquet. Be sure to
enjoy your roses this spring! (Photos: Debbie Arrington)
Warm weather brings out blooms; how to make them last
It's time to smell some roses!
This warm weather has prompted blooms to pop. Thousands of roses are bursting into full flower in major gardens around Sacramento. If you have roses in your own garden, undoubtedly they're starting their spring show now, too.
Saturday would have been the annual Sacramento Rose Society show at McKinley Park. With the coronavirus shutdown, that show is on hold. But the 1,200 bushes are blooming in McKinley Park's memorial rose garden, which is still open to the public. Get out for a socially distanced walk and enjoy that spring display.
From your own garden, gather some blooms to enjoy indoors. Flowers instantly lighten our mood and make us smile.
If you have enough flowers, share some with friends or neighbors. You can leave bouquets (in a jar of water or other vase substitute) on their porch and ring the doorbell. The recipient can get your gift with no contact.
With no rose show this weekend, a rose-growing friend made eight little bouquets for her home-bound neighbors, arranging each in a recycled jar tied with a bow. I'm sure she brightened everybody's day.
Here are some tips on how to make your bouquets last longer:
* Always use a clean container. Rinse out the vase or jar before using.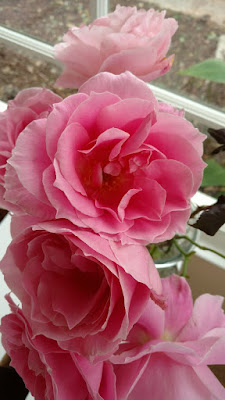 Friendship roses make a beautiful bouquet.
* After bringing in your flowers, re-trim the stems underwater. This eliminates any air bubbles that may clog the stem and prevent it from sucking up water. The easiest way is in a bowl of water; snip off an inch or two of the stem beneath the water's surface.
* When trimming stems, cut at an angle. This keeps the stems from standing flat on the bottom of the vase, which can block their ability to take up water.
* Remove any foliage that will be below the water line in the vase. This helps prevent bacterial rot, which smells awful and shortens the life of the flowers.
* Change the vase water every two to three days. Re-trim stems (under water again) each time you change water.
* Avoid putting the flowers in direct sunlight or near heat sources (such as a stove or other appliances). Also avoid putting blooms near fresh apples, pears, bananas or stone fruit; they release ethylene gas, which can cause flowers to open faster but also shortens their vase life.
Is there anything that will make your bouquet last longer?
According to professional florists, a teaspoon of commercial flower food added to the water will help keep blooms fresher and lasting longer. So will a cold and chilly room. (That's why florists keep flowers refrigerated.)
To make bouquets last longer, people often suggest home remedies such as adding to the vase water sugar and vinegar, a splash of vodka, aspirin or copper pennies.
A test by ProFlowers found only one that actually worked: One-quarter cup of clear soda (such as 7-Up or Sprite) added to the vase water helped the bouquet last up to 10 days. It's the sugar in the soda that does the trick; diet beverages won't work.