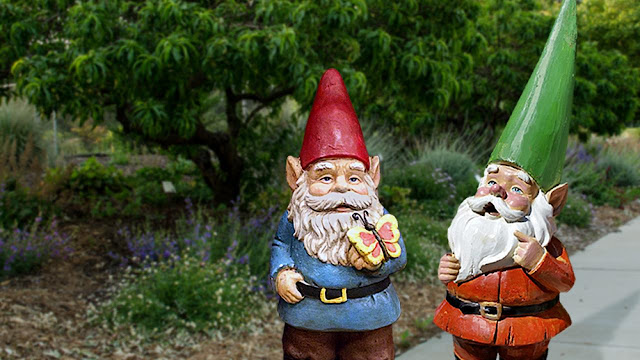 "Ask the Garden Gnomes" is a twice-weekly garden "talk show" on Facebook Live. (Photo  UC Davis Arboretum)
UCD Arboretum tries creative outreach during COVID crisis
It's not quite "Walk with Warren," but it's Arboretum garden fun during COVID-19 restrictions.
Twice a week, the UC Davis Arboretum and Public Garden hosts its own garden talk show, "Ask the Garden Gnomes." Streamed on Facebook Live, the program invites viewers to ask gardening questions as well as showcases the natural world inside the Arboretum.
It's free, fun and educational with something for gardeners of all ages.
The one-hour shows stream live at 10 a.m. Tuesdays and Thursdays. The next gnome adventure is set for 10 a.m. Thursday, May 21.
Details and links:
https://arboretum.ucdavis.edu/events/ask-garden-gnomes-2
Meanwhile, the Arboretum's popular events such as guided tours with Superintendent Emeritus Warren Roberts and plant sales are still on hold. Organizers hope those restrictions will be lifted soon. Stay posted with the arboretum's newsletter, "The Leaflet"; sign up here:
https://arboretum.ucdavis.edu/subscribe
Although group events have been canceled until further notice, the arboretum is still open daily to visitors and monitored by personnel. Patrons are asked to practice social distancing and stay at least 6 feet apart.
Where to start your arboretum exploration? Two interns, Kelly Nishimura and Wyatt Garrett, created a fun way to see a lot of the campus's public gardens: "Arboretum Bingo." (Details:
https://arboretum.ucdavis.edu/news/play-arboretum-bingo
). See the arboretum and share it with friends via social media. It's an entertaining game for kids, too, as well as a creative way to keep people engaged with the gardens when the normal way of doing things won't work.
Along that same line, another intern, Madissen Hamberlin, created "May Madness: California Native Plant Showdown." This online game asks patrons to vote for their favorite native flora via Facebook and Instagram. (Can the poppy take it all?) Details:
https://arboretum.ucdavis.edu/may-madness
The arboretum's interns are part of its Leading by Learning program. While classes have moved online, interns are working on educational and environmental projects including these entertaining social media introductions to the arboretum and its vast plant collections.