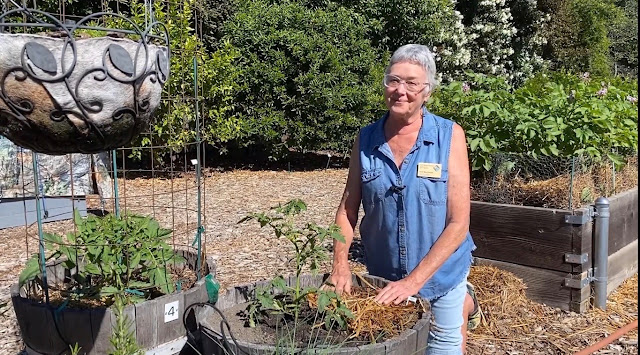 Master gardener Andi MacDonald shows how to grow veggies in containers in one of the new videos filmed by the UCCE master gardeners for Virtual Harvest Day.
(Screenshot from YouTube)
Videos filmed for Harvest Day now available for viewing
Gardeners don't have to wait for (Virtual) Harvest Day to view all the helpful new videos filmed by the UCCE Sacramento County master gardeners.
The topics range all over the Fair Oaks Horticulture Center, from the compost area to the Water Efficient Landscape, from the vegetable garden to the orchard.
Several videos focus on specific pruning chores: woody sages, rosemary, ornamental grasses, and summer pruning of fruit trees. There are also tips on setting up a compost bin, putting netting over blueberries, growing herbs in containers and identifying pests on grapevines. And plenty more.
Videos are coming from the two Harvest Day speakers, Karrie Reid and Ed Laivo. On Harvest Day itself, Saturday, Aug. 1, live Q&As will be shown with the two speakers and with a panel of UCCE master gardeners. Send questions in to
mgsacramento@ucanr.edu