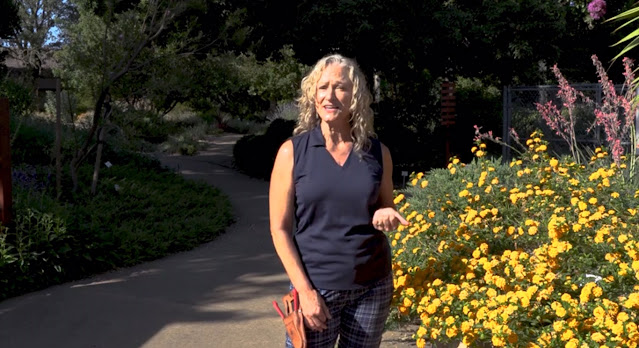 In the Water Efficient Landscape at the Fair Oaks Horticulture Center, Karrie Reid talks about "Building Resilient Gardens." (Screenshots from UCCE YouTube channel)
I love Harvest Day. Each year I scramble to get to the Fair Oaks Horticulture Center, find a parking place and then a seat before the roster of speakers starts. So much great information to soak up!
Well, Virtual Harvest Day 2020 is two days away, and I've already heard both key speakers! And gardeners, it's worth your time to go to YouTube and watch their videos. You'll be all set if you do it now, and then you can watch each speaker live on Saturday as they handle gardeners' questions -- including yours (hint, hint).
"Building Resilient Gardens"
is the topic of Karrie Reid, the UCCE environmental horticulture adviser for San Joaquin County. I like her use of the word "resilient" because it covers all the things we worry about for the garden: weather, water shortages and changing climate. Reid talks about the importance of building soils and choosing the right plants for our planting zones.
"Grow Fruit Trees in Limited Space Using Size Control"
is the focus of Ed Laivo's presentation. Laivo is a fruit tree and edible-landscaping specialist who helped establish the FOHC orchard. He now works for Burchell Nursery. His effective presentation shows how orchards can be kept to compact size with one hand tool: pruning shears. He hoists poles to show just how tall fruit trees can grow -- and to show the optimum size for a home orchard. (See the screenshot below.)
About 20 other short videos recorded by the Sacramento County master gardeners, covering topics from compost to vineyards, are available on YouTube. Do check all of them out, but aim to start with Teri VanAirsdale's charming
welcome video
.
Reid will be live Saturday at 9 a.m., Laivo at 10 a.m. They will be followed by a panel of master gardeners at 11 a.m. Find the link for the live event on Saturday on t
he Harvest Day page
. To send in questions for any of the live shows, email
mgsacramento@ucanr.edu
And just think, you won't have to rush to find parking!