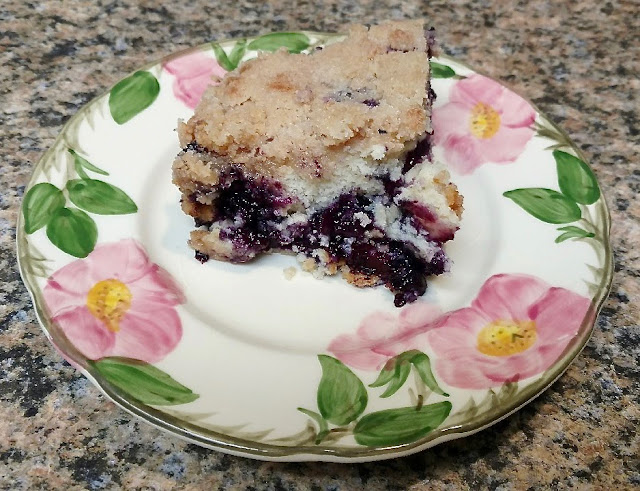 Blueberry buckle is chock full of juicy fruit. (Photos: Debbie Arrington)
Recipe: Blueberry buckle has a touch of sour cream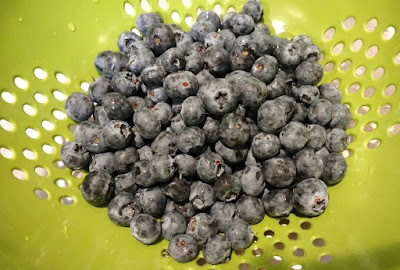 Our blueberry season is ending. It's a great time to
make a buckle.
Blueberry season is wrapping up now in California. The fact that there is even such a thing as a "California blueberry season" is thanks to modern hybridizing, which created blueberry varieties that require less chill to produce fruit.

Packed with antioxidants, blueberries rank among the healthiest foods you can grow. That's helped make blueberries best sellers in produce markets and farmstands.

As the popularity of blueberries soared, so did planting. That's increased availability, too.

How to enjoy all those late-season blueberries? This buckle is a twist on an old-fashioned favorite (the difference is sour cream). Basically a giant biscuit with the fruit baked inside, blueberry buckle belongs to the same family of homey coffee cakes and desserts as cobblers, betties and crisps -- all with evocative names. Most of then have a crumbly topping, too.
How do blueberries "buckle"? As it cooks, the fresh blueberries turn into ooey, gooey, juicy filling, encased by sugary biscuit. Fruit packs this easy comfort food -- no ice cream or whipped cream necessary.
Chopped peaches, apples or pears may be substituted for the blueberries.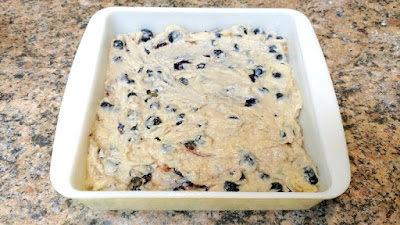 This homey dessert goes together quickly.
Don't forget the sugary topping!
Blueberry buckle
Makes 9 servings
Ingredients:
1/4 cup shortening
3/4 cup sugar
1 egg
2 cups all-purpose flour
2 teaspoons baking powder
1/4 teaspoon salt
1/2 cup sour cream
1/4 cup low-fat milk
2 cups blueberries

For topping;
2/3 cup sugar
1/2 cup all-purpose flour
1 teaspoon cinnamon
1/3 cup butter

Instructions:
Preheat oven to 375 degrees F.

Grease a 9-inch square baking dish; set aside.

In a large bowl, cream together shortening and 3/4 cup sugar. Beat egg and add to mixture.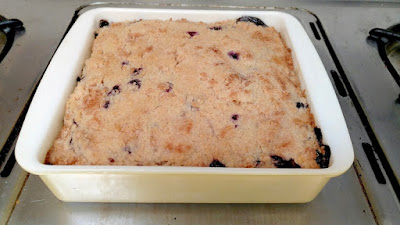 This buckle is fresh out of the oven. Let it cool for a bit.


Sift together 2 cups flour, baking powder and salt. Stir together sour cream and milk. Add flour mixture and sour cream mixture alternately to creamed mixture, beating well after each addition. Batter will be stiff. Gently fold in blueberries.

Spread batter into prepared baking dish.

Make topping: In a medium bowl, stir together 2/3 cup sugar, 1/2 cup flour and cinnamon. Cut butter into cubes, then cut butter into mixture until crumbly. Spread topping over blueberry mixture in baking dish.
Place dish on baking sheet to catch any overflow from fruit. Bake at 375 degrees in center of oven for about 40 to 45 minutes, or until topping is golden and a toothpick inserted near center comes out clean (at least batter-wise -- the blueberries will be juicy).

Let cool a few minutes before serving. Cut into nine 3-by-3-inch pieces.