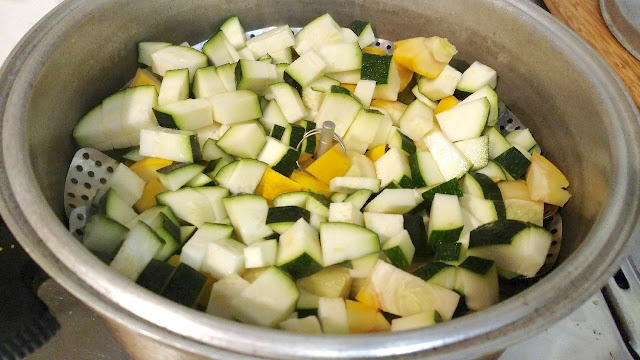 The yellow pattypan and green zucchini squashes are diced before steaming.
(Photos: Debbie Arrington)
Creamy summer squash casserole is an old Kentucky favorite. Usually, it's made with baby crooknecks; peeled, boiled and mashed.
This variation uses a mix of summer squash, still plentiful in October. Even (somewhat) over-sized squash will work. Once puréed, big and little squash all cook the same.
The combination of green zucchini and yellow pattypan makes for an attractive side dish, too. All green or all yellow is pretty (and tasty), too.
Two-squash casserole

Makes 6 servings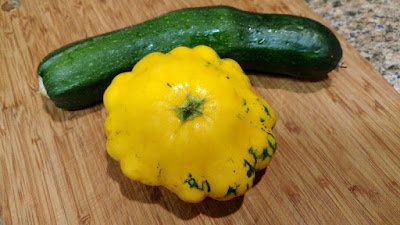 Summer squash season is coming to an end, but there's

still time to find (or harvest) them for the casserole.

Ingredients:
2 pounds mixed summer squash (zucchini, pattypan, crookneck, etc.), chopped into 1-inch chunks
1 egg, beaten
¼ cup cream
1 tablespoon sugar
5 teaspoons cornstarch
½ cup (1 cube) butter, melted
½ cup onion, finely chopped
¼ cup Parmesan or Romano cheese, grated
Salt and pepper to taste
Instructions: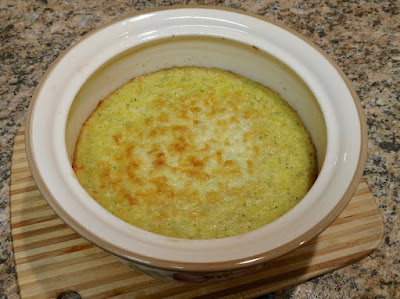 Two-squash casserole is a homey, creamy side dish.


Grease a 2-quart casserole dish. Set aside.
Preheat oven to 350 degrees F.
Steam squash over simmering water until fork tender. In a food processor, purée squash until smooth.
In a mixing bowl, beat egg with cream. Mix together sugar and cornstarch; add to egg-cream mixture. Stir in melted butter and chopped onion. Fold in puréed squash. Season with salt and pepper.
Pour mixture into greased casserole dish. Sprinkle grated cheese over top.
Bake in a 350-degree oven for 40 minutes or until top is golden.
Serve warm.