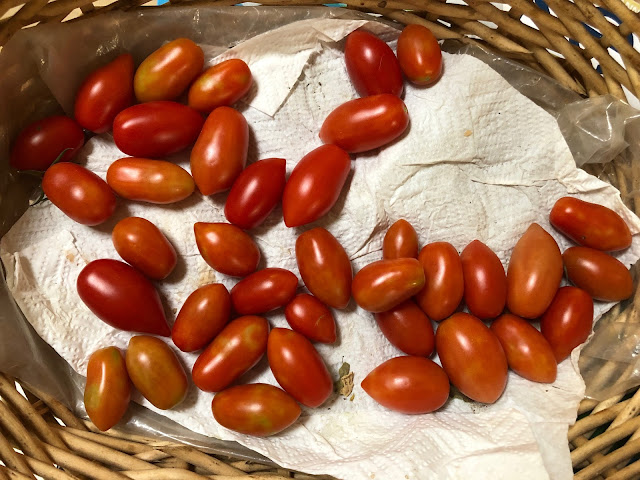 These Juliets were more green that red just Wednesday. A day later, several are ripe enough to be used in a salad. (Photo: Kathy Morrison)
The tomatoes aren't completely gone, so we're going to talk about them one more time this fall. First, a couple of readers shared their experiences.
Pam McCabe:
"Speaking of tomatoes. I planted a Mortgage Lifter for the first time this year - not one tomato. I was so disappointed. I had big hopes for that one! My Bumble Bee cherry tomato is still going. Taking awhile for the green ones to turn red."
Kathy's comment: Mortgage Lifter is a wonderful tomato, but it's a big ol' heirloom. I'm beginning to believe that the Sacramento area is getting too hot to grow heirlooms. Even in good conditions, they take forever to produce, and then don't have much of a yield.
"Farmer Fred" Hoffman had a discussion with Don Shor (of Davis' Redwood Barn Nursery) on his Garden Basics podcast in May about NOT growing heirlooms in our regions.  (If you want to hear it, that part starts at minute 14:31.)  Shor recommends well-adapted hybrids. Yet these old-time varieties -- Brandywine being another classic -- are often why gardeners dive into tomato-growing. Any readers have success with heirlooms this year?
Cherry tomatoes are usually the type that do well no matter what's going on with the weather. (The exception this year: the infamous Sun Gold meltdown that affected so many gardens and which Debbie wrote about in August .) For anyone looking for a good cherry variety, Pam's success with her Bumble Bee is worth noting.
At least until the weather drops into the low 40s overnight, the green ones will turn red on the plant. They ripen faster inside on the counter. My Juliet tomato, a cherry tomato that resembles a Roma, is the last one standing in my garden, and it's the size of two plants. It produced a huge amount of flowers in mid-September, and now it has green and "blushed" tomatoes all over it. I picked several Wednesday and, as you can see in the photo above, many are close to fully ripe already.
If you have to pull a plant that still has a lot of green tomatoes, pick them off and enclose them in a brown paper bag, and include an apple or banana. The gas given off by the fruit will help ripen the tomatoes. They won't be as luscious as those picked in the summer, but they'll still be better than anything store-bought.
I've read of, but never tried, pulling an entire plant and hanging it, upside down, in the garage to ripen the green tomatoes.
For another reader's experience, here's Donna Murrill:
"I live in Durham, CA about 90 miles north of you. We had more days of over 90 weather and more over 100. About the same results however. I did not use shade cloth on the tomatoes. But in the three spots I grew them they get some shade from large trees at different parts of the day.
"For the first time ever I lost four Sun Gold plants to the heat and smoke in August. Also two yellow pear tomatoes. But I am still harvesting lots of other varieties of red cherry tomatoes. Picked my last four large tomatoes today (10/22) from a late planted Big Beef plant. Still have quite a few green, smaller tomatoes, some of the mid season planted Big Beef and Park's Whopper plants. And Chef's Choice Orange is still producing small tomatoes. The early planted tomato plants were pulled out 3 weeks ago.

"In past years my few early planted Early Girl tomatoes have done well. This year they were not worth bothering with. They acted like determinate plants. I do not know if this was heat or the plant breeding of that variety has changed."
Kathy's comment: Thanks, Donna. Sorry about those Sun Golds. The successive plantings I'm contemplating seems to have worked for your hotter weather. Oh, and that's odd about the Early Girls, an extremely popular hybrid variety of salad-size tomato. We'll have to keep an eye on that. Maybe our weather has changed too much for those, too.
Gardeners with a lot of larger green tomatoes can always try cooking with them. Many people like these breaded and fried, of course, but they also make an excellent (time-consuming) chutney. Last winter I baked
lemon bread
that used chopped green tomatoes as a substitute for shredded zucchini.
As an experiment, this year I am going to try to overwinter one container tomato, either the Better Bush or the rejuvenated-and-cut-back Robeson. Or maybe both. Those pots are small enough to tuck next to the house, under the eaves. And no great loss if either fails -- I have home-canned and frozen tomatoes to tide me over awhile.
And if any reader has successfully propagated a tomato plant from a cutting, please flag me. I know some master gardeners who would be interested in knowing which variety worked.