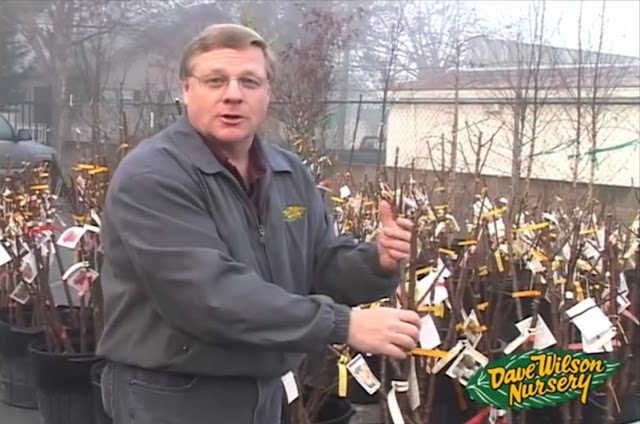 Ed Laivo gives advice on choosing a bare-root fruit tree in a Dave Wilson Nursery video, one of many videos linked on the Sacramento County master gardeners' website . (Screenshot)
Experience is a great teacher, and judging from social media posts, this year a lot of gardeners -- beginners and veterans -- received a lot of schooling on growing food and ornamentals.
We all were home more, with more time to nurture plants and see our gardens develop. Or not.
The "I'll throw some seeds in the ground" crowd learned that preparing the soil first would have helped those seeds germinate better and develop as strong seedlings. Good chance they're working on a compost pile and already may have done a soil test for missing nutrients.
The "why grow 5 tomato plants when I can grow 25" folks learned about keeping up with a large crop -- and the importance of strong support for all those plants. They're already planning stronger cages or better stakes. And maybe fewer tomatoes.
The "I'm not getting any squash" group learned that not all plants develop the same way. Squash, pumpkins and melons require both male and female flowers to pollinate -- and those flowers may not develop at the same time. These gardeners may have bought a paintbrush to transfer pollen themselves. And are likely planning more pollinator plants to entice more bees.
The "but it said full sun!" gardeners learned that this note on a plant or seed package doesn't mean Sacramento sun in July or August. They're already investing in shade cloth. Lots of shade cloth.
The large "what's eating my plants?" crowd learned that growing food can mean having to share with the local wildlife. They're researching greenhouses, plant cages and motion-operated sprinklers.
There were a lot more lessons, of course, depending on one's garden size, location, contents and personal experience.
Many fine sources of information are out there to help gardeners build on their experience/education. I recommend starting with the UCCE Sacramento County master gardeners' website , which is packed with information, charts and references for year-round gardening.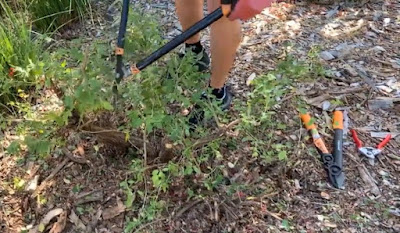 Master gardener Pat Schink demonstrates hard winter
pruning of a blooming salvia plant in one of the
Sacramento County master gardener videos. (Screenshot)
And I hope all gardeners take the opportunity to check out the Sacramento  master gardeners' video library. Many of the videos listed were filmed in the summer, for Virtual Harvest Day 2020, but they're good to review year-round. Pertinent ones for winter include these:
Sharpening hand pruners with Bill Black of the Sacramento master gardeners
Composting: Getting started with Susan Muckey of the Sacramento master gardeners
Shopping for bare-root fruit trees with Ed Laivo of Dave Wilson Nursery
Grafting fruit trees with Tom Spellman of Dave Wilson Nursery
Identifying and removing suckers on citrus trees with Kerry Beane of Four Winds Growers
Seed-starting with Ruth Ostroff of the Sacramento master gardeners
Pruning woody sages with Pat Schink of the Sacramento master gardeners. This video includes growing season and dormant season (winter) pruning of salvias.
With the outdoor world mostly resting, winter is the perfect time to read up on gardening topics, watch videos,  and prepare for 2021 gardening.
Happy new year!