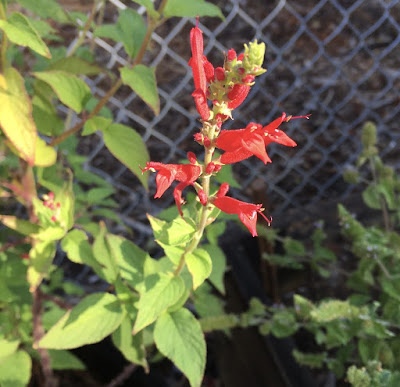 Pineapple sage (Salvia elegans) can do triple duty in the
garden. Its flowers entice pollinators, add bright beauty
and are edible. The leaves also are edible. (Photo: Kathy
Morrison)
Well, we're definitely inside for a few days. It's cold and soggy outside, terrible gardening conditions. And wet soil shouldn't be walked on, anyway -- that compacts it, harming the soil structure and anything that is growing in that soil. And when compacted soil dries, it's more likely to be hard -- and harder to dig.
So, stuck indoors, the gardener can turn to catalogs, gardening guides, magazines, books and online publications that may have been stacking up (ahem!) or bookmarked for further reading. It's the best time all year to tackle that pile.
The Sacramento County master gardeners have dozens of online guides , so I dove into several I'd been meaning to get to. My current favorite, because it sounds so cheerful, is GN 155, Growing Edible Flowers in Your Garden.
I first saw flowers used in food when I was in college, visiting a friend in Oregon. One of her roommates crumbled a couple of marigold blooms into the salad. I was surprised -- this was long before organic gardening was common -- then intrigued. Turns out there are dozens of edible flowers, many of them quite familiar as ornamentals. This means much of the garden can incorporate double- or triple-duty plants: for beauty, food for humans, and food for pollinators and beneficial insects.
It's important to note that any pesticide-treated flower should NOT be eaten. This especially includes systemics, such as those sometimes used on roses.
But growing your own edible flowers means you can be sure they are free from pesticide residue.
While planning the spring garden, consider including some of the flowers listed here. Many more are listed on the aforementioned GN 155, which also notes specific flowers NOT to the eat.
Some pretty and edible flowers
Annuals: Borage (blue petals only); calendula (petals only), nasturtium, petunias, pineapple sage (often a perennial in our climate), radishes, scented geraniums (also a potential perennial; frost-sensitive), signet marigolds, snapdragons, violas.
Perennials: Bee balm, daylily, dianthus, hollyhocks, red clover.
Trees and shrubs: Apple, hibiscus, lilac, rose petals and rose hips, rosemary.