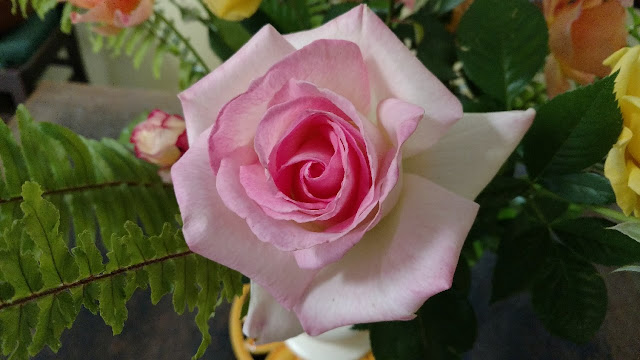 Want to have display-worthy roses? Plant them right and prune them right. Listen to Farmer Fred
Hoffman's latest podcast for tips from the experts. This is Debbie Arrington's Pink Promise rose, which she tackles in one segment of the podcast. (Photo: Debbie Arrington)
How do you tackle a 12-foot rose bush? Cut it down to size first.
What about pruning tree roses? Think of them as an elevated bush.
How do you get a bare-root rose off to a healthy start? Begin with a high-quality, healthy plant with strong canes and roots.
Those are some of the finer points of pruning and rose care that local experts share during the latest "Green Acres Garden Podcast with Farmer Fred."
"All about Roses" includes interviews with master rosarians Debbie Arrington and Charlotte Owendyk as well as rose experts at Green Acres Nursery & Supply. As a bonus, podcast host Farmer Fred Hoffman adds his own "cutting" remarks about pruning perennials, another current chore.
Debbie (of Sacramento Digs Gardening) also shares information about choosing the right tools, dressing for pruning safety (and success) and what to do if your roses are still blooming when it's time to prune. (Among her tips: Don't wear knits while pruning; go for denim instead.)
To illustrate techniques, Debbie prunes a gigantic Pink Promise hybrid tea that had grown as tall as the house and was still full of blooms – and leaves.
For her lesson on tree roses, Charlotte uses her Julia Child floribunda tree roses, which annually produce fountains of flowers at eye level.
The bare-root rose segment is hosted by Green Acres' Folsom staff and features new varieties now available.
Listen for yourself:
https://bit.ly/39A0QyJ
Become a Farmer Fred podcast regular. Farmer Fred now hosts two weekly podcasts: "Garden Basics with Farmer Fred" and "Green Acres Garden Podcast with Farmer Fred." Links to both are available at
www.farmerfred.com
.