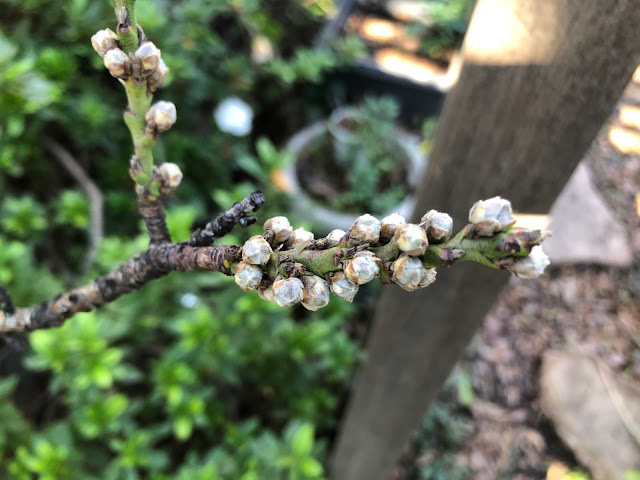 These peach buds are at the perfect stage for spraying with a copper-based fungicide to prevent peach
leaf curl. The Sacramento area should have dry weather for gardening for at least a few more days. (Photos: Kathy Morrison)
Enjoy the sun! While much of the nation is shivering (and covered with snow), Sacramento will bask in spring-like weather. High temperatures will flirt with the 70s this weekend before returning to "normal," according to the National Weather Service. That means afternoon highs in the low 60s and overnight lows about 40 degrees, depending on cloud cover.

No frost is in sight. A chance of showers is in the forecast, but not until late Thursday or Friday. Next weekend also is expected to be dry.

What's normal for late winter in Sacramento? Historically, our February highs average 60 degrees with lows of 42. The biggest difference right now? Rain. Sacramento averages nearly 3.6 inches for February; so far this month, we've totaled 0.28.

Precipitation will have to pick up dramatically to reach "normal" levels. Since Oct. 1 (the start of our water year), Sacramento has received just 4.8 inches of rain -- almost 6 inches below average.

This sunny weather is prompting plants to break buds and grow rapidly. So, get busy!

* This is the last chance to spray fruit trees before they bloom. Treat peach and nectarine trees with copper-based fungicide. Spray apricot trees at bud swell to prevent brown rot.

* Apply horticultural oil to control scale, mites and aphids on fruit trees. Oils need at least 24 hours to dry to be effective. Don't spray during foggy weather or when rain is forecast.

* Feed spring-blooming shrubs and fall-planted perennials with slow-release fertilizer. Feed mature trees and shrubs after spring growth starts.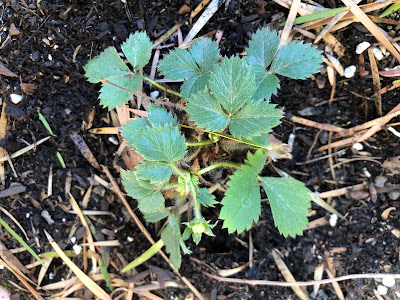 If you already have strawberries in the ground, it's a good
time to feed them. It's also a good time to put in new plants.
* Fertilize strawberries and asparagus.

*Transplant or direct-seed several flowers, including snapdragon, candytuft, lilies, astilbe, larkspur, Shasta and painted daisies, stocks, bleeding heart and coral bells.

* In the vegetable garden, plant Jerusalem artichoke tubers, and strawberry and rhubarb roots.

* Plant artichokes, asparagus and horseradish from root divisions.

* Transplant cabbage, broccoli, kale, Brussels sprouts and lettuce (both loose leaf and head).

* Plant potatoes from tubers and onions from sets (small bulbs).

* From seed, plant beets, chard, lettuce, mustard, peas, radishes and turnips.

* Plant summer-flowering bulbs including cannas, calla lilies and gladioli.

* Indoors, start peppers, tomatoes and eggplant from seed.