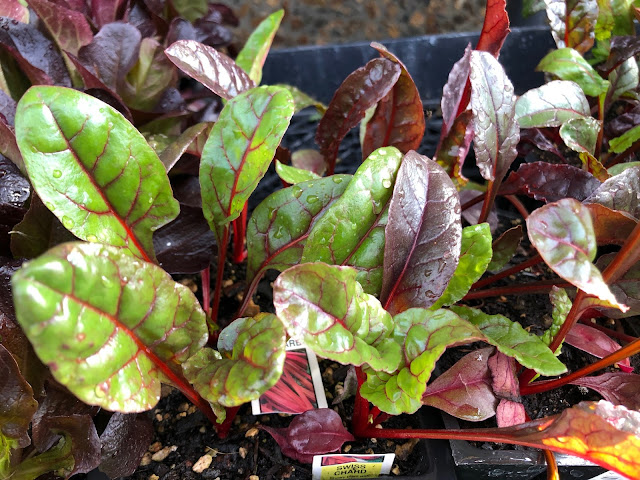 Chard is a good choice for transplanting or seeding in the late winter garden. The leaves can be picked at any stage for salads, stir fries and other dishes. (Photo: Kathy Morrison)
With warm afternoons and some refreshing rain, our gardens got a big taste of spring. But don't plant for summer yet. Another cooldown is on its way.
According to the National Weather Service, Sacramento can expect a week of cloudy weather with chances of showers on Monday and Thursday. Cloudy skies will keep daytime temperatures cool (mostly low 60s) and nights relatively warm with overnight lows staying in the 40s.
That combination will keep lettuce, cabbage, spinach and other cool-season veggies from bolting (sprouting flower shoots) a little while longer. Instead, there's an opportunity to plant more.
Meanwhile, postpone planting tomatoes and peppers until the weather and soil stay consistently warm.
What to do now?
* Feed spring-blooming shrubs and fall-planted perennials with slow-release fertilizer. Feed mature trees and shrubs after spring growth starts.
* Finish pruning roses, even if they've begun to sprout new growth.
* Plant a flower garden. Transplant or direct-seed snapdragon, candytuft, lilies, astilbe, larkspur, Shasta and painted daisies, stocks, bleeding heart and coral bells.
* In the vegetable garden, plant Jerusalem artichoke tubers.
* Plant bare-root strawberry, asparagus and rhubarb.
* Plant globe artichokes from root division.
* Transplant one more round of fast-growing cool-season veggies such as loose-leaf lettuce.
* From seed, plant beets, chard, lettuce, mustard, peas, radishes and turnips. Choose fast-growing varieties.
* Indoors, start peppers, tomatoes and eggplant from seed.