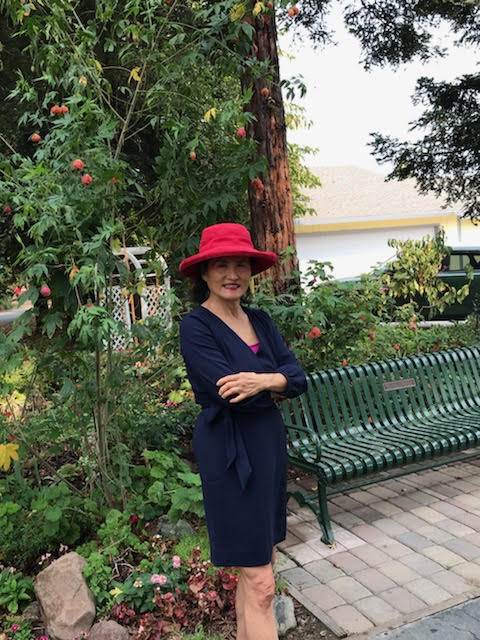 Huei Young stands in front of the bench installed at the
City Garden in honor of her late husband, Frank. (Photos
courtesy Huei Young)
After a year filled with challenges, Huei Young has a reason to celebrate – her City Garden finally has an official sign.
Along with that new plaque comes an opportunity for support. The City of Davis set up an official city account to help raise money to maintain the garden Huei started more than three decades ago.
It's a milestone for this enthusiastic and ever-optimistic senior gardener who has earned an international following. Her private garden as well as the public garden she started on the greenbelt adjacent to her mid-century modern home have been featured on television, in magazines and books as well as local newspapers (
and blogs
).
Through tours of her gardens, Huei has raised thousands of dollars for several charities including Shriners Hospitals for Children. The pandemic canceled her 2020 tours, but she plans to resume them as soon as she can, likely this summer. Interested individuals and garden clubs can contact her at
hueis.garden@yahoo.com
.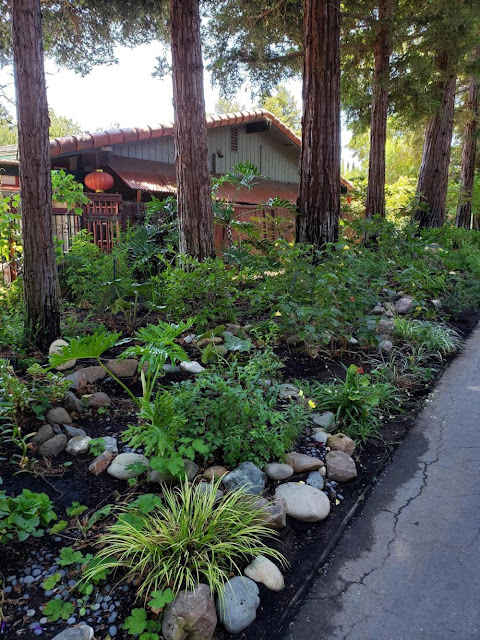 Another view of the City Garden.


In anticipation of upcoming tours, Huei made several additions to the garden in recent months. She planted fragrant roses along with the scores of perennials and shrubs, nestled under mammoth redwoods.
During a terrible windstorm in October 2019, one of those beltway redwoods dropped huge limbs on Huei's beloved feng shui garden, wiping out her large covered patio along with a mirrored wall and water features. While staying safe at home during 2020, she channeled her abundant energy into rebuilding her garden better than ever.
Then, she turned her attention again on the City Garden, polishing the little oasis she had made for her neighborhood in east Davis at the end of Luz Place near Grande Avenue. A permanent bench was added in memory of her late husband, Frank.
"My City Garden looks very, very beautiful," she said after the bench was installed. "Each day, so many people pass by and give me the thumbs-up, and each day I get many thanks from people of all ages. People stop to take family pictures in front of the City Garden. The fulfillment is great."
Last fall, a neighbor, Maryellen Bauer, created a video to share Huei's Garden with others while in-person tours were impossible. See it here:
https://www.youtube.com/watch?v=fqRaSNo5-60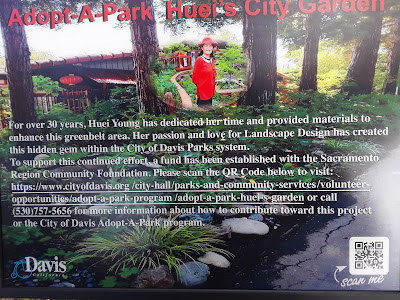 Here's the sign installed at Huei's City Garden.
And on March 3, the official sign was installed, proclaiming that shady section of beltway as "Adopt-a-Park Huei's City Garden."
Over the more than 30 years that she's been tending her City Garden, Huei spent hundreds of dollars of her own money each season to maintain and improve it. Now in her 70s, she says she appreciates the city's offer to help raise funds and offset that expense. It allows her to do more for local charities.
"Huei made the initial improvements and has been supplying the material and labor to update and maintain the garden herself," says the city's announcement about the fund. "Many people enjoy the 'oasis' she has provided and some have inquired about ways to support the ongoing efforts.
"An independent community fund has been set up through the
Sacramento Region Community Foundation
to support the continued maintenance and beautification of the area. Contributions will go toward the landscaping material and labor to help maintain the area."
Checks should be made out to: YCF Davis RCS Program Fund
To assure that your donation goes to this specific sub-fund set up for this garden section of the greenbelt, please make sure to add this note in the memo/notes section of the check: Huei's City Garden Improvements.
Checks should be sent to: Sacramento Region Community Foundation, 955 University Ave., Suite A, Sacramento, CA 95825
To contribute online, go to:
https://bit.ly/30kxj6k
For more details and photos of Huei's Garden and her City Garden:
http://www.hueis-garden.com/