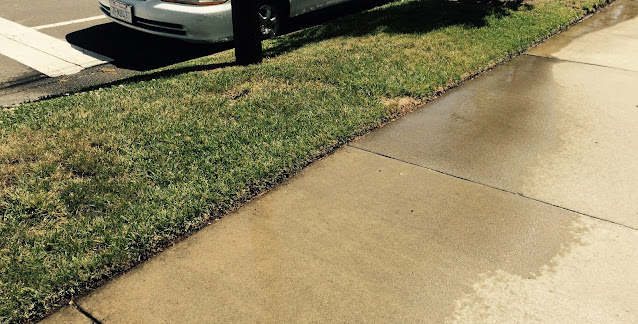 Sprinklers should be adjusted so they're not watering the sidewalk or the
gutter. Sacramento also does not permit irrigation during midday, only between 7 p.m. and 10 a.m. (Photo: Kathy Morrison)
Time to spring forward! Daylight-saving time starts Sunday, March 14.
Remember to reset your clocks before you go to bed Saturday night.
Also, reset clocks and timers on your irrigation system. With lengthening days, you'll likely want to water earlier and later than your winter schedule.
In Sacramento, March also brings a return of the warm-season watering schedule. Residents may use sprinklers twice a week, depending on address. Even-numbered homes may water Wednesday and Sunday; odd-numbered homes water on Tuesday and Saturday.
Regardless of your watering days, hours are restricted to the period 7 p.m. to 10 a.m. So, either water in the evening, overnight or early morning.
The exception: Drip irrigation may be used at any time. Also, plants in containers may be watered as needed.
Installing new sod or other landscaping? You may water 30 consecutive days to help get it established. Same goes for a reseeded lawn.
City of Sacramento reminds residents that runoff from irrigation is not permitted at any time. So use this weekend to check for leaks and malfunctioning sprinkler heads, too. Water the landscaping, not the sidewalk.
And if it rains (as we saw this week), remember to turn off irrigation – at least for a little while. The city recommends keeping sprinklers off for 48 hours after .125 inch of rain or more.
For more tips:
https://bit.ly/3ezajsY