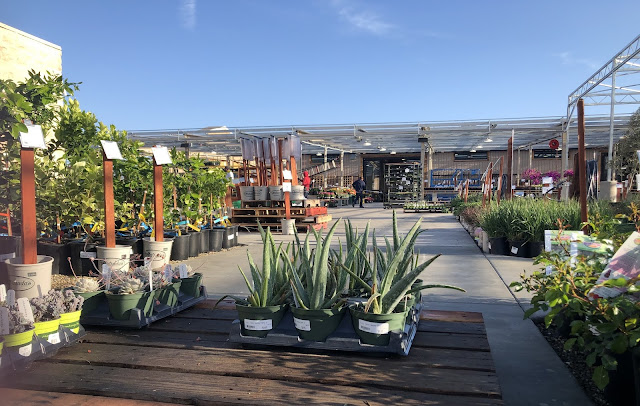 This may be the emptiest the Citrus Heights Green Acres will ever be during store hours -- early
morning on the first day of its soft opening, April 9. (Photos: Kathy Morrison)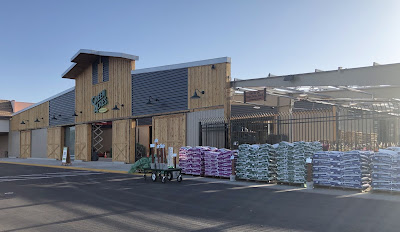 Morning sun breaks over the new Citrus Heights

Green Acres Nursery & Supply at San Juan and

Greenback.




Seventh location in family-owned chain hosts soft opening
and Kathy Morrison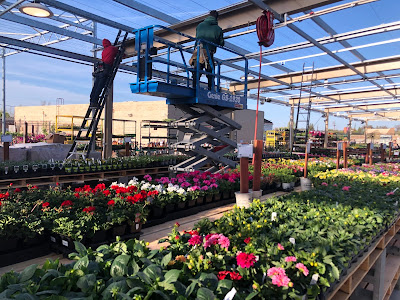 Shoppers at the soft opening Friday worked around crews
completing the outdoor roof structure.
It's spring; what better time to open a new nursery?
Although its website still says "coming soon," Green Acres Nursery & Supply opened the doors to its newest location Friday morning in Citrus Heights. Packed with thousands of fresh plants and other garden goods, the new nursery and outdoor living store hosted a soft opening with shoppers alerted by a video teaser on social media.
Located at 6128 San Juan Ave. at the corner of Greenback Lane, the Citrus Heights garden store is the seventh nursery and outdoor living showcase in the family-owned chain.
The northeast corner of Sacramento County has lacked a neighborhood nursery since Capital Nursery's longtime site at Madison Avenue and Sunset Boulevard closed its doors in late 2012. Shoppers early Friday were overheard telling the Green Acres staff how they've been looking forward to the opening, and their carts already were loaded up with flowers, succulents, vegetables and a fruit tree or two.
Replacing a former antiques mall, the new 75,000-square-foot location includes 24,000 square feet of indoor space for gardening supplies, tools and an Outdoor Living department that will feature patio furniture, grills and accessories when fully stocked. An acre surrounding the building is now home to a 13,000-square-foot greenhouse for perennials and annuals, a 16,000-square-foot lath house for shade plants and a 2,600-square-foot greenhouse for houseplants.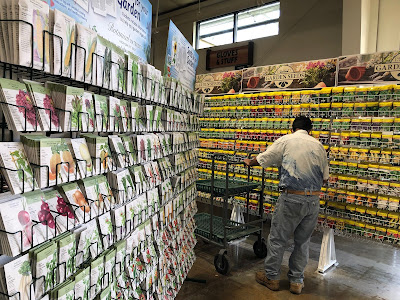 The Botanical Interests and Lake Valley seed racks were fully
stocked.
This is boom times for nurseries, with interest in gardening riding an all-time high. An estimated 30 million Americans became first-time gardeners in 2020.
Founded in 2003, Green Acres now has locations in Sacramento, Rocklin, Roseville, Elk Grove, Folsom, Auburn and Citrus Heights.
And all seven nurseries are hiring. According to Green Acres, the new store creates dozens of job opportunities for the Citrus Heights community. Employment positions range from cashiers to carry-outs to horticulture sales specialists.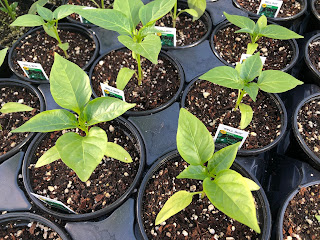 Peppers ready to transplant.
"We are thrilled to be part of the Citrus Heights  community and look forward to building relationships  with new customers for years to come," said Tami Kint, Green Acres marketing director.
Dates and details for the official grand opening are still to come. Stay tuned!
Details:
www.idiggreenacres.com
.