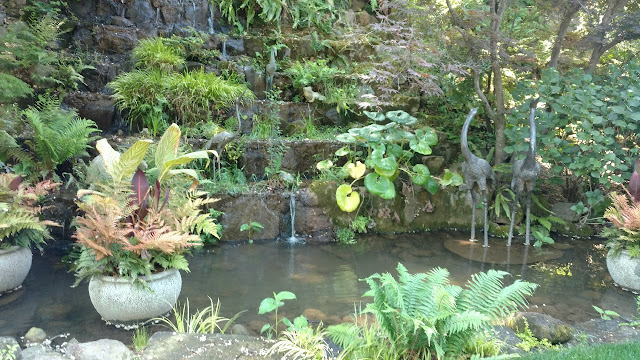 Some of Maple Rock's many garden "rooms" feature ponds. (Photo: Debbie
Arrington)
More good garden news after 15 months of uncertainty: Maple Rock is reopening!
Located in Newcastle, the unique destination will host "A Day At Maple Rock Gardens," from 9 a.m. to 3 p.m. Saturday, May 29. Now on sale, tickets are $15. For an extra $10, visitors can pick "as much lavender as you want."
Activities include a self-guided tour through Maple Rock's many garden "rooms." The miniature railroad will be winding through garden terraces. Food and drink will be available, too, with plenty of spots for picnicking.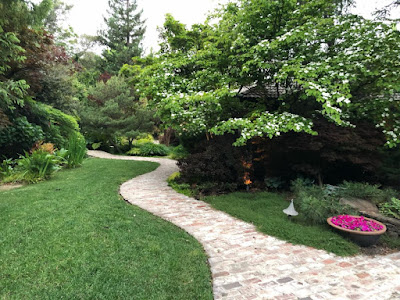 Maple Rock will be open for a day of strolling and lavender picking
May 29. (Photo courtesy Scott Paris)
Admired as one of the best private gardens in the West, Maple Rock Gardens is the home of Scott Paris, owner of High-Hand Nursery and Conservatory in nearby Loomis. A working farm as well as a garden showcase, Maple Rock is occasionally open to visitors for tours, lavender harvest and more.
But since the pandemic started in March 2020, Maple Rock has been closed to visitors.
While focusing on health and the survival of his businesses, Paris continued to tend his gardens, making small renovations and improving on this living masterpiece.
Right now, the gardens look so good, Paris decided he had to share.
"I was walking the garden last night and a thought flashed through my head," he said in an email blast to his newsletter subscribers. "I wish people would come and enjoy this.
"Over the last year or so, I haven't walked the garden too much, I have been focused on other things as we all have," he added. "But as I turned the corner here and there, I constantly came across something that I wish I could share.
"We didn't open the garden last year and I was waiting for the timing this year to present itself. So we are going to open it for the day!"
Paris noted that time off from visitors may have actually helped Maple Rock look better than ever.
"While the gates of Maple Rock remained closed, life inside its walls moved along as nature does," he explained. "The garden has bloomed, grown, matured, and stood the test of this time.
"Without foot traffic, it's as if the garden healed itself here and there. Some plants grew and took over a pathway. Some plants in the garden that went unnoticed have grown and reminded me that they are still there. When I look around here and there, there are parts of it that are not perfect, but who am I to say? Nature makes its own rules and redefines what the meaning of perfect really is."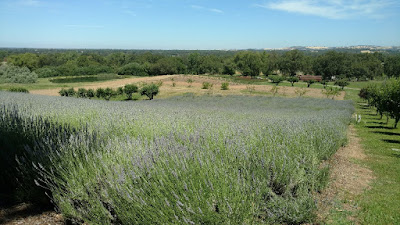 Huge lavender fields are a feature of Maple Rock Gardens.
See for yourself. Besides the massive lavender fields and many fruit trees, the 30-acre Maple Rock features a series of enchanting garden "rooms" and spaces, each different and filled with garden whimsy. Dozens of statues dot the grounds, which wind up a hill with photo-worthy vistas. Along the paths and in the "rooms," hundreds of blooming shrubs mix with perennials, framed by stone walls. Water features – ponds, fountains, waterfalls, streams and more – add sound as well as refreshing coolness. On special days such as this, the miniature railroad – one of the largest garden railroad layouts in the state – comes to live, uniting two miniature "communities" nestled among the garden terraces.
For the lunch menu, Paris is bringing in some popular dishes from his cafe.
"We are serving our famous rotisserie chicken salad sandwich and barbecued pulled pork, both on High-Hand fresh baked bread," he said. "In addition, everyone's favorite grilled shrimp salad will also be served. Enjoy a glass of lavender lemonade or a selection of our best wines and beers."
Wear comfortable shoes. No pets please.
Maple Rock Gardens is located at 100 Clark Tunnel Road, just off Hwy. 193 in Newcastle.
For tickets:
https://conta.cc/3hOw61d
.
For directions and more information about Maple Rock:
www.maplerockgardens.com
.
Questions? Call 916-660-0117 Ext.4 or email
events@highhand.com
.