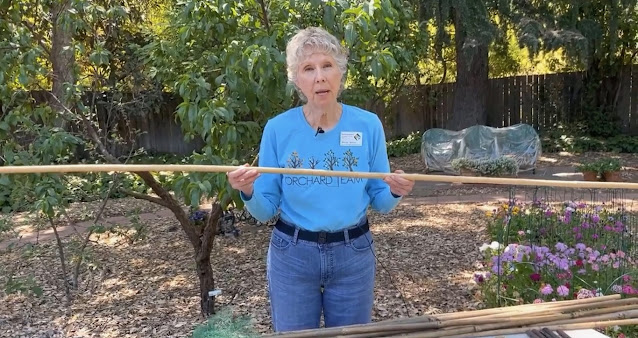 UCCE master gardener Wendy Wilson explains the simple tools needed to net a fruit tree. (Screengrab from Sacramento County master gardeners YouTube channel)

Have you checked out the Sacramento County master gardeners' YouTube channel lately? Four new videos have been added to the 30 already there.  They each tackle an important gardening question for this time of year
1) Netting Fruit Trees: An Easy and Inexpensive Method. Are the birds and squirrels eyeing your ripening tree crop? Master gardener Wendy Wilson demonstrates how to protect the fruit, on a 7-foot-tall cherry tree. (The master gardener Orchard Team recommends keeping fruit trees to this height for ease of picking and maintenance.)
2) Straw Bale Gardening, Part 1: Preparing the Bales. Master gardener Gail Pothour has been setting up straw bale gardens at the Fair Oaks Horticulture Center for a number of years, growing everything from sweet potatoes to tomatoes in them. She takes viewers through the process of conditioning the straw bales. Great information on the difference between hay and straw, too. Here's the printed guide she mentions in the video. A second video is planned on planting and growing in the bales.
3) Blueberries: Amending Your Soil's pH. Blueberries are picky about their soil -- they need a pH level of 4.5 to 5.5, which is acidic. Master gardener Marta Kravech explains why and how to get the soil acidic enough for blueberries to perform their best.
4) Maintaining a Weed-Free Lawn. Master gardener Sherry Dunn discusses the most common lawn weeds, plus offers mowing tips and information on herbicides.
The previously posted master gardener videos on YouTube contain a wealth of gardening tips. Here are 3 that are relevant right now:
-- Thinning Fruit on Your Fruit Trees. Thinning keeps fruit trees healthy and prevents breakage of limbs.
-- What's Wrong With My Tomatoes? This video tackles environmental disorders such as catfacing, blossom end rot, cracking and sunscald.
-- Harvest and Rejuvenate Your Lavender. Ruth Ostroff and Vivian Sellers of the master gardeners' Herb Team show the best way to keep lavender healthy.
-- Kathy Morrison