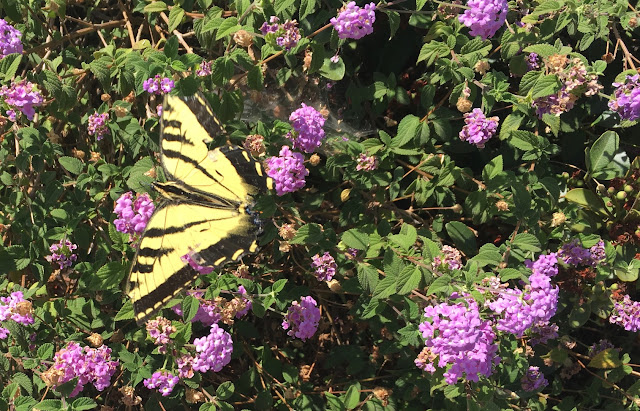 A western tiger swallowtail enjoys the ambiance of a trailing lantana. Low-water gardens can be beautiful. (Photo: Kathy Morrison)
How do you balance garden beauty with fire safety? How do you support bees and butterflies while saving water? (And what can survive our summer heat while still looking good?)
As our climate gets drier, those gardening challenges become harder, especially in communities with limited water. Who knows what to plant to fulfill all these needs?
Master gardeners do! See their suggestions and learn how to master this gardening dilemma during a special free workshop. It's open to anyone with an internet connection.
Set for 9 a.m. Saturday, June 26, "Gorgeous Low-Water Gardening" features the expertise of foothill master gardeners, who have the challenge of providing defensible space for wildfire protection.
Presented by the UC Cooperative Extension Master Gardeners of Amador County in cooperation with the UCCE Master Gardeners of El Dorado County, this 90-minute online class will explore options and challenges of low-water gardening.
"So, you want a beautiful garden up here in the Sierra Foothills," say the organizers. "You want to attract butterflies and bees, but you also want to be fire-safe and, of course, drought tolerant due to our long, hot summers and increasing drought periods."
Like the drought period we appear to be in again.
"Well, things just got pretty tricky!!" they added. "You need advice and direction from the experts! Join our Master Gardeners who will share tips and tricks, review various plant choices and discuss water management for your beautiful creation."
Registration is free, but required. Participants can sign up anytime before and during the session. You will receive the link to the session in the registration confirmation email. To register:
https://bit.ly/3xWnzyi
More details:
https://ucanr.edu/sites/Amador_County_MGs/