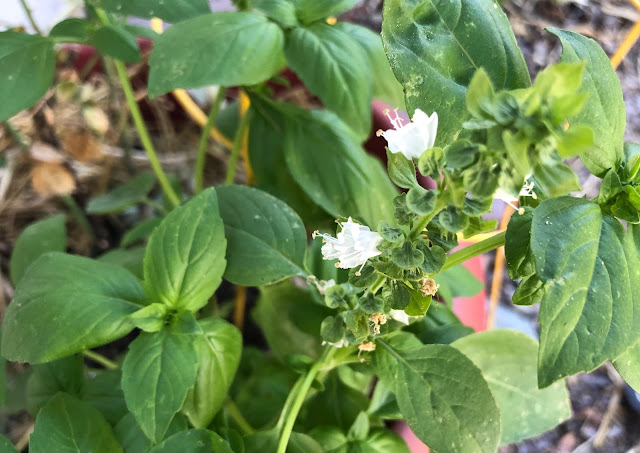 Pinch the flowers off basil to encourage it to grow more leaves. (Photo: Kathy
Morrison)
June ends with another dangerous heat wave. According to the National Weather Service, an Excessive Heat Warning is in effect from Saturday afternoon through 10 p.m. Wednesday. For parts of the Valley and foothills, temperatures could peak at 111 degrees.
Ouch! That's more than 20 degrees above normal for late June in Sacramento.
The heat will be most intense in the foothills and valley north of Sacramento. Closer to the rivers and downtown, high temperatures will be more tolerable, climbing to "only" about 100.
Little overnight cool down will start each day warmer. Lows will stay in the mid 60s through next weekend.
During these extra-hot days, there's a high chance of heat stress or illness for people and animals. Keep pets indoors or give them shade. Make share they have access to fresh water.
NWS's advice for people: "Drink extra water. Avoid outdoor strenuous activities 10 a.m. to 8 p.m. Plan to be in air conditioned buildings."
That applies to gardening, too. Give vulnerable plants a drink in the morning. Take care of chores early in the day. Then, retreat indoors.
* Keep your vegetable garden watered, mulched and weeded. Water before 8 a.m. to reduce the chance of fungal infection and to conserve moisture.
* Erect temporary shade for plants that are getting too much sun. Watch peppers, eggplant and tomatoes for sunburn.
* Don't let tomatoes wilt or dry out completely. Give tomatoes a deep watering two to three times a week.
* Harvest vegetables promptly to encourage plants to produce more. Squash especially tends to grow rapidly in hot weather. Keep an eye on zucchini.
* Pick up fallen fruit. It attracts pests.
* Pinch back chrysanthemums for bushy plants and more flowers in September.
* Harvest tomatoes, squash, peppers and eggplant. Prompt picking will help keep plants producing.
* Remove spent flowers from roses, daylilies and other bloomers as they finish flowering.
* Pinch off blooms from basil so the plant will grow more leaves.
* It's not too late to plant summer annuals such as petunias, snapdragons, zinnias and marigolds.
* From seed, plant corn, pumpkins, radishes, winter squash and sunflowers. Seeds may need daily watering to sprout.