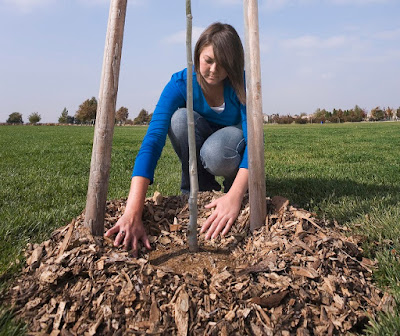 Wood-chip mulch helps retain soil moisture and protects
a tree's roots. (Photo courtesy Sacramento Tree Foundation)
This Independence Day weekend, step up to help some local trees – and learn how to help your own trees, too.
On Saturday morning, July 3, the Sacramento Tree Foundation will host a Mulching Day at Smythe Academy, 2781 Northgate Blvd., Sacramento. Volunteers will be out in force from 8:45 a.m. to noon.
Participation is free, but volunteers should register in advance:
https://bit.ly/3gZQknL
.
These particular trees have special meaning, according to the foundation, because they're school trees. Students enjoy their shade as well as learn about trees from these examples.
"School trees need our help to get through this hot, dry summer!" say the organizers. "Volunteer with us to mulch, stake, and care for young and mature trees that our children enjoy and learn from."
SacTree experts will lead the mulching.
"All tools will be provided," say the organizers. "Please bring a water bottle (and wear) closed-toed shoes, a hat, and work clothing. Wood chips contain dust and pollen that can irritate your respiratory system, so bring a mask to protect your lungs and sinuses."
As for COVID protocols, non-vaccinated people should wear face masks, too. This is an outdoor activity with plenty of room for social distancing.
For details:
www.sactree.com
.