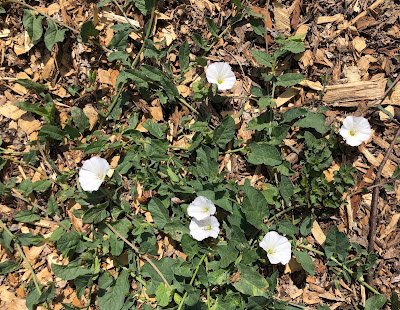 It's pretty but it's a thug: Bindweed. (Photo: Kathy Morrison)

Nevada County master gardeners offer free virtual workshop
Can you tell a good plant from an invasive weed? How do you stop garden thugs from taking over your landscape?
Learn about the world of weeds and how they affect our gardens – and lives – during a free virtual workshop, presented by the UC Cooperative Extension Master Gardeners of Nevada County.
Set for 9 am. Saturday, July 10, "Weeds: The Good, The Bad, The Ugly" will explore the world of invasive plants with an eye for the weeds most likely to pop up in Northern California gardens.
"Weeds follow human habitation," explain the master gardeners. "Sometimes unsightly, sometimes daunting, weeds crowd out desirable plants and cause considerable frustration for gardeners and farmers."
What can a gardener do?
"While they can be difficult to eradicate, there are safe ways to control your weeds," say the master gardeners. "Despite the bad and the ugly, weeds may also fit into our landscapes as beneficial additions to gardeners, wildlife and soil health."
Yes, there are good weeds!
The two-hour workshop is free and no advance registration is necessary. Find the link at:
http://ncmg.ucanr.org/
. Zoom meeting ID is 870 4333 4646.
The weeds workshop is the first of three July virtual presentations offered by the Nevada County master gardeners, all on Saturdays. Also included in the series are: "Garden Makeover: Lawn to Landscape," 9 a.m. July 24; and "Softwood Propagation," 9 a.m. July 31.
Details:
http://ncmg.ucanr.org/
.