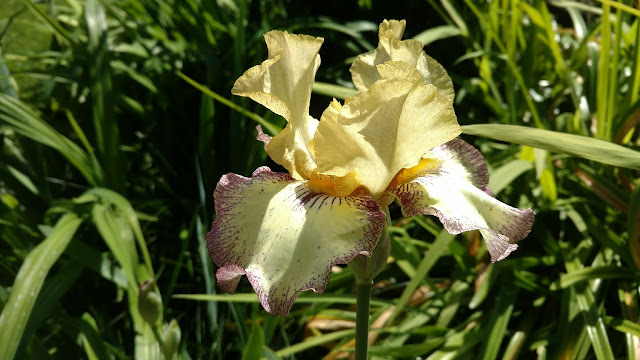 Rhizomes for bearded irises of all colors will be on sale this weekend. (Photo: Debbie Arrington)
Hundreds of varieties available at annual Sacramento rhizome sale
Mid to late summer is the perfect time to plant bearded iris rhizomes. That makes July the perfect time for a rhizome sale.
Saturday and Sunday, July 17 and 18, the Sacramento Iris Society will host its annual rhizome sale at Shepard Garden and Arts Center. These are newly dug rhizomes – fresh from the ground, divided, trimmed and ready to replant. Rhizomes are the fleshy tubers that produce these perennial flowers.
Want some interesting irises? Hundreds of varieties will be available, in every color from pure white to shimmering black and dozens of combinations. According to the society, each specimen will be labeled with the cultivar name and a description of the flower appearance.
"Again we will have a large selection of rebloomers, which have an extended bloom season," say the organizers. "A demonstration table will be set up to show how rhizomes should be planted. A labeling station will allow you to prepare a free permanent garden label for each of your rhizome purchases before you leave."
Why plant irises? Besides the beautiful flowers, they're an ideal choice for Sacramento and foothill gardens. Bearded iris are both deer- and drought-resistant; they can coexist with wildlife and need little summer irrigation.
Sale hours are 9 a.m. to 3 p.m. each day. Admission and parking are free.  Shepard Center is located at 3330 McKinley Blvd., Sacramento, in McKinley Park.
Details and directions:
www.sgaac.org
.