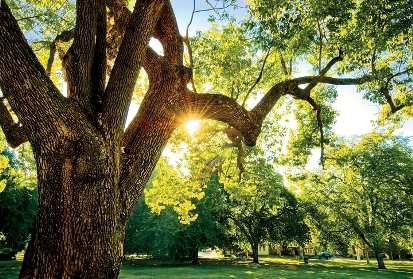 Sacramento's remaining heritage elms are threatened by disease and development. The Sacramento Tree Foundation is recruiting volunteers to keep an eye on the elms. (Photo courtesy Sacramento Tree
Consider this a neighborhood watch for favorite trees.
The Sacramento Tree Foundation is recruiting volunteers to take part in a census of the city's tallest residents – century-old elms. Endangered by disease and development, these beloved trees have dwindled, greatly decreasing Sacramento's tree canopy.
Once home to many thousands of big elms, Sacramento now has just about 1,900 remaining American, English and Siberian elms. Once they're gone, they're gone.
This is where SacTree's STEP – Save the Elms Program – steps up. The foundation needs volunteer "community scientists" to visually check on these remaining trees and see if they're doing OK. Volunteers use a downloadable app to relay their observations to the foundation with the goal of saving our remaining heritage elms.
"Our heritage elm trees are the most historic and iconic of Sacramento's trees," says the foundation. "Elms represent a remarkable legacy spanning generations; many of our elms are over 100 years old and climb as high as 130 feet into the city skyline.
"But they've been in trouble for a while," added the foundation. "Dutch elm disease (DED), a fatal and contagious fungal disease with no cure, has plagued our city since the 1990s."
Protecting the remaining elms is vital to our tree canopy.
"Replacing this elm canopy and the benefits provided to our community is not possible," says the foundation. "Large mature trees provide the most benefits, but they require a lot of space to thrive. As our city grew up around these elm trees, their planter sizes shrunk to make room for buildings, roads and sidewalks. Because most of today's planters are no longer large enough to accommodate another large tree, once these heritage elms are lost, the health, economic and environmental benefits of their immense canopies will be lost forever."
The volunteer effort is coordinated with the City of Sacramento's Urban Forestry program to monitor the remaining elms and slow the spread of Dutch elm disease. This summer program continues through September while the trees still have their green foliage and before they drop their leaves in fall.
Volunteers (as well as anyone interested) can watch an informative video on the warning signs of Dutch elm disease on SacTree's website. Download the STEP app, then take a walk around your neighborhood. Your local elms will thank you.
Details and links:
https://www.sactree.com/