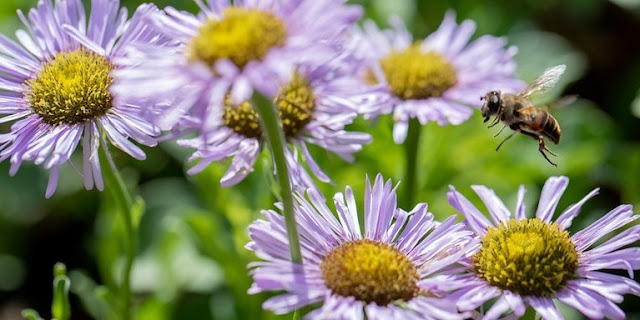 Saturday is National Honey Bee Day. (Photo courtesy of UC Davis Arboretum)

This event is guaranteed to get a lot of buzz.
Saturday, Aug. 21, is National Honey Bee Day, and you're invited to make a beeline to Placerville's Sherwood Demonstration Garden. UC Cooperative Extension Master Gardeners of El Dorado County will host a morning full of sweet celebration, focusing on bees and how crucial they are to our everyday life.
Visitors can take self-guided tours of Sherwood's 16 themed gardens. In the Bee Garden, special educational displays will be set up to offer some insight into the busy lives of these vital insects.
In addition, the master gardeners will answer questions about how to keep bees happy and healthy.
Sherwood Demonstration Garden will be open from 9 a.m. to noon Saturday. It's located at 6699 Campus Drive, Placerville. Admission is free.
Details and directions:
http://mgeldorado.ucanr.edu/
Created in 2009 by a small group of beekeepers, National Honey Bee Day is held the third Saturday of August. Free events are coordinated nationwide by
HoneyLove.org
, a Los Angeles-based non-profit organization dedicated to building awareness about bees and beekeeping.
Find more events and learn more:
https://honeylove.org/national-honey-bee-day/