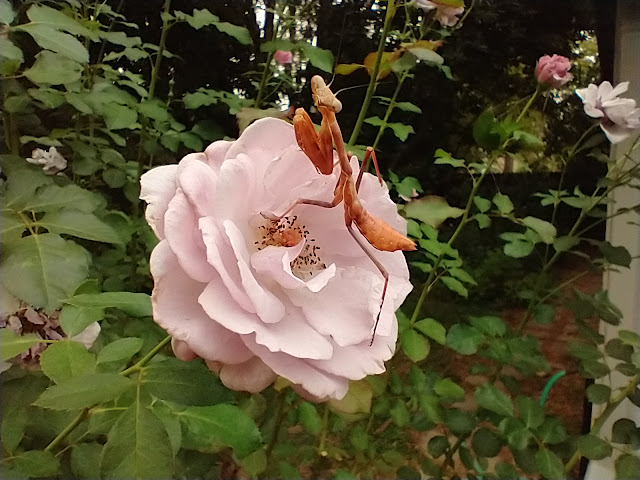 A mantid has changed color while hanging out on a Fragrant Lavender Simplicity rose. (Photo: Debbie Arrington)
This fascinating creature changes its color to blend into its surroundings. When that backdrop is a purple or orange rose, that makes for interesting camouflage.
This August, I've been watching the praying mantids that inhabit my rose garden. They have an appetite for aphids, which makes them welcome on my no-spray bushes.
But really, mantids will eat anything that comes near their huge forelegs, which also makes them problematic. They're a beneficial insect that also eats other beneficials, such as bees or butterflies.
Recently, I watched in horror as a mantid ripped off the head of a little sweat bee that had come too close to the floribunda where the predator was lurking. The mantid watched me as it ate, cocking its triangular head as if waiting for a reaction. "That's not very nice," I scolded, too late to help the poor bee.
What would you expect? Mantids aren't nice; the females famously cannibalize their own species after mating.
Their indiscriminate consumption of other insects has downgraded the praying mantid (or mantis) status as garden good guy. The UC Integrated Pest Management pest notes do not recommend their introduction.
"Although mantids are fascinating creatures, they are of no benefit for biological pest control," say the pest notes. "Mantids feed on any insect they can catch, and commonly prey indiscriminately on beneficial and nonpest species including bees, butterflies and syrphids. Even if mantids specialized on pests, this likely would be of little benefit; mantids are relatively inactive, and despite their large size, each individual consumes relatively few insects."
Adds the UC Cooperative Extension master gardeners, "As mantids consume both pests and beneficials, they are difficult to use reliably for biological control."
Nonetheless, I let my mantids continue to roam my rose beds, if only for the entertainment. No other insect puts on such a colorful show – and it doesn't eat the roses.
One morning, a mantid might be bright green and roam onto a rose in search of food. By afternoon, it's the same shade as the flower – pink, orange or purple. And it doesn't mind if people watch.
For more about mantids here:
https://www2.ipm.ucanr.edu/natural-enemies/mantids/