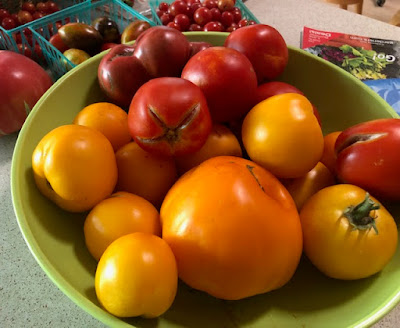 My best-looking tomatoes were harvested in late
July and early August. The large one in the front is an
Orange Oxheart; all the other yellows are from my
prolific Lemon Boy plant. And yes, I had issues
with cracking on some of my reds. (Photo:
Kathy Morrison)
"It was a bad tomato year, wasn't it?" A woman I didn't know asked me that as she was sipping coffee,  watching me unload supplies for the Carmichael Community Garden booth (to sell flowers as a fundraiser) at the local farmers market.
My short answer: Yes, it was, for most people. I gave a quick explanation of the weather's effect on pollen and fruit set, and then got too busy to elaborate. But I had to smile to myself: Tomato growing is a guaranteed conversation starter in these parts.
By some counts, there are more than 15,000 tomato cultivars, with about 3,000 in active cultivation. Even if a gardener planted 20 different ones each year for a lifetime -- let's be optimistic and say 60 years -- that's 1,200 varieties tried, with more than 1,800 opportunities missed. And no repeating successes, no matter how wonderful they were.
Also, success or failure of each variety would have to factor in the variables of weather and climate change, even if that gardener cultivates the same plot in the same zone for the entire 60 years. (We hope this gardener is rotating crops, however.)
Even with the odds thus stacked, we tomato growers try to improve them a little, and question each other about what happened this year. Which variety did well? Maybe, just maybe, that same variety will be the star in our garden next year. Even if the weather is worse.
I wrote about my 2021 tomatoes last week . Here are some readers' responses to my question on what did well this year:
Eric F: "I grew Chef's Choice Orange last year, and Chef's Choice Bi-color this year. Both gave a good crop of nice-sized tomatoes (about the size of the Brandy Boy)."
(My note: These tomato varieties are both All-America Selections winners, which means they've been tested all over the country and do well in many locations. The orange one so far is my favorite.)
He also asked, "My lemon boys look like yours, all golf ball size or smaller. Any way to get them bigger?"
My Lemon Boys over the past two months have been all different sizes; the small one in the photo I ran was among the first to ripen. I do think adequate sunshine, water and nutrients help tomatoes grow larger, but you're limited by tomato genetics: An Early Girl isn't going to morph into a beefsteak-size tomato. Just work to make the plant as happy and healthy as possible, and then let nature do its thing.
Donna M., who gardens in Durham (Butte County), has a good list of successes, with other notes: "Big Beef, Chef's Choice Orange, Lemon Boy, Bodacious Hybrid, Steakhouse hybrid.  For the second year in a row Park's Whopper was almost a failure.  And two Heirloom standard tomatoes were failures!  Brandywine is 8 feet tall and only produced ONE tomato.
"Cherry types:  Juliet and Super Sweet 100 tied for the best.  Still picking lots of both.  Sun Gold planted where it only gets sun until about 2pm has done fine this year, but production is really slowing down now.  Valentine, a newer grape tomato is a good grower and producer, but the skins are super tough. Yellow pear seems to do best in some afternoon shade.  The kids around here like the Super Sweet 100 the best.
"I usually plant in early to mid April, and again in early June.  It has not been the best tomato year for sure.  But peppers are producing so many I cannot use them all.  And the two Anaheim pepper varieties I grow are both super HOT this year.  Same with Jalapenos.  Both my Poblanos and the Anaheim types are now over my head.  This has made them far too shady -- next year they will be planted farther apart and in more sun!"
My peppers did very well this year: The Shishitos are wonderful, the jalapeño good and now even the bells are producing excellent fruit. The raised bed where they grow gets some late afternoon shade, and it's on a soaker hose, on a timer, but I think the real key to success was the pile of home-grown worm castings added over the winter.  I'll be adding more to another raised bed this year.
(Interesting in worm composting? Read my post from last year.)