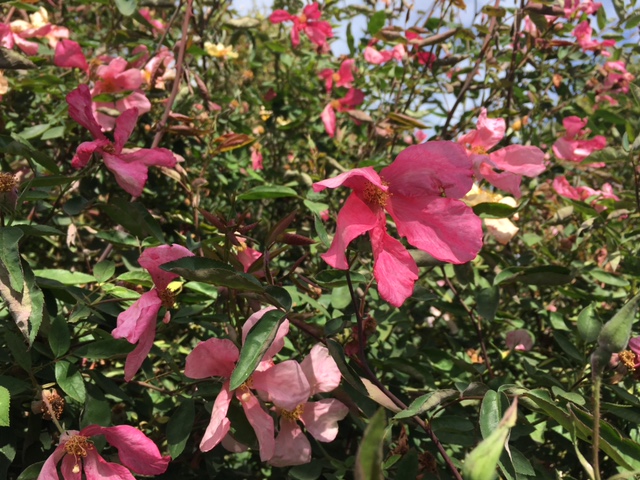 The mutabilis rose, an Arboretum All-Star also known as the butterfly rose, is among the plants to be offered for sale during the UC Davis Arboretum Fall Sale. (Photo: Kathy Morrison)
The UC Davis Arboretum Nursery plant sale for years has been a top source for California natives and other plants appropriate for our climate. When the Covid-19 shutdowns began, the sales moved online, with curbside pickup arranged for purchased plants.
And that's what is planned this fall, too. Only one sale will be held this season, unlike the multiple ones last spring, and members of Friends of the Arboretum will get first crack at the plant inventory.
And what an inventory! It runs 44 pages, available for viewing here , and includes hundreds of yarrow, dozens of mangaves, 250 showy milkweeds and even a few abutilons. Plenty of succulents, too.
So, if you're already a member of the Friends or of the Davis Botanical Society, be ready at 10 a.m. Tuesday, Oct. 19, when the sale starts. (Such a deal: These folks also get 10 percent off their plant purchase.) Then at 10 a.m. Oct. 22, members of the public will be able to join the shopping. At 1 p.m. Oct. 25, sales will close for the season.
After  checkout, shoppers receive a link to schedule a time during the pickup period, which runs from Oct. 26 to Nov. 13, with Sunday, Monday and Veterans Day excluded.
Note: For members of the public to access the online plant sale store, they must sign up for the Arboretum newsletter, The Leaflet. Sign up here. A link to the store will be sent to newsletter subscribers the morning of Oct. 22.
Anyone interesting in joining the Friends of the Arboretum -- which this year is celebrating 50 years of dedicated support -- can find details here. In addition to supporting the Arboretum and Public Garden, which is one of the region's great treasures, and getting deals on plants, members receive other benefits. These include partner discounts at such businesses as Redwood Barn Nursery in Davis, Renee's Garden Seeds online, and Annie's Annuals in Richmond and online.
-- Kathy Morrison