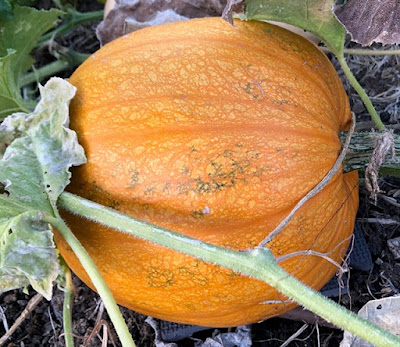 Found the perfect pumpkin yet? Amador Flower Farm
has its pumpkin patch open through Sunday, as
well as a corn maze. (Photo: Kathy Morrison)
It's pumpkin time in Amador wine country!
Amador Flower Farm near Plymouth is celebrating this Halloween weekend. That means the farm's main attraction is not its usual assortment of daylilies, but its massive pumpkin patch and kid-friendly corn maze.
"Our pumpkin patch and corn maze are open daily in October from 9 a.m. to 4 p.m. with no admission fee," says the Deaver family. "A large variety of pumpkins for sale. … Bring the kids and a camera!"
Besides hundreds of pumpkins in all sorts of varieties (and multiple colors), the farm offers free tram rides (weather permitting) around its sprawling oak-studded property.
About an hour from downtown Sacramento, the 14-acre farm is home to thousands of daylilies in more than 1,100 varieties. In addition to the pumpkin patch, the nursery is open.
Tables are available for picnicking under the valley oaks. Bring a lunch and relax. Admission and parking are free.
Amador Flower Farm is located at 22001 Shenandoah School Road, Plymouth. Phone: 209-245-6660.
Details and directions: www.amadorflowerfarm.com .