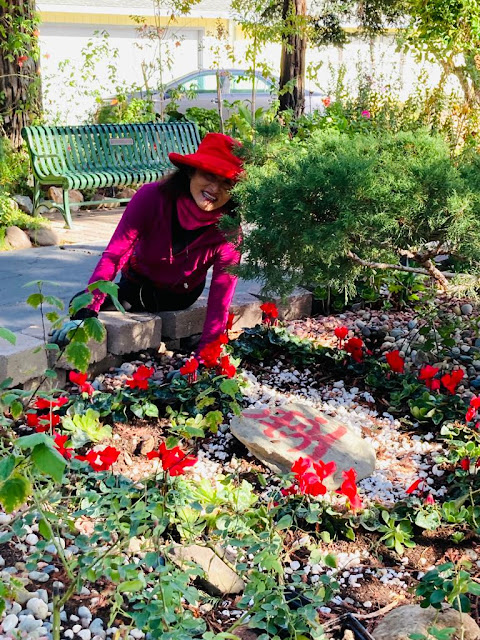 Huei Young in the City Garden near her Davis home. She is again opening her
private garden to fundraising tours. (Photos courtesy Huei Young)


After a major rebuild and year off due to the pandemic, Huei's Garden is once again inviting guests to enjoy its tranquil beauty.
Huei Young, who created her Davis oasis at 234 Luz Place, is hosting a fundraising tour of her private garden at 1 p.m. Sunday, Nov. 14. Proceeds from the tour will benefit Shriners Hospital for Children. Reservations are limited; email Huei to check for availability at
hueis.garden@yahoo.com
.
Through her tours, Young has raised thousands of dollars for local charities. She also welcomes garden clubs and is now scheduling spring tours. Suggested donation is $25 per person.
Internationally known, her private garden as well as the public Huei's City Garden she started on the greenbelt near her mid-century modern home have been featured on television, in magazines and books as well as local newspapers and blogs.

During the pandemic, Young made several additions to her gardens. She planted fragrant roses along with the scores of perennials and shrubs, nestled under mammoth redwoods.

In October 2019, a windstorm dropped huge limbs from one of those redwoods onto her beloved feng shui garden, wiping out her large covered patio along with a mirrored wall and water features. While staying safe at home during 2020, Young channeled her abundant energy into rebuilding her garden better than ever.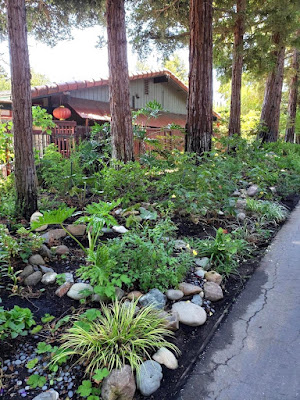 Redwoods tower over Huei Young's garden.
Windstorm damage prompted an extensive
rebuild.
For more than 30 years, Young has been working on the City Garden as well as her own landscape. Open daily to visitors, the City Garden runs along the bike and walking path in her neighborhood in east Davis at the end of Luz Place near Grande Avenue. Last year, a permanent bench was added in memory of her late husband, Frank. In addition, the City of Davis installed an official sign designating that section of the greenbelt "Adopt-a-Park Huei's City Garden."
But her private garden is private – except when Young hosts a tour. To arrange a tour, email Young at
hueis.garden@yahoo.com
.
Details and photos:
www.hueis-garden.com
.