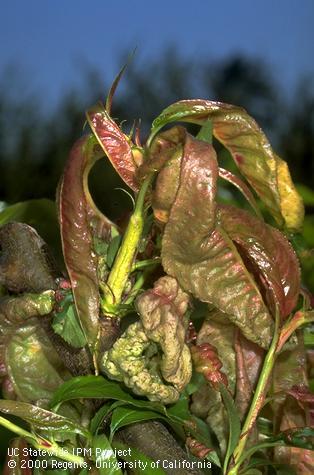 Distorted and blistered leaves are signs of peach leaf curl.
Now is the time to spray peach and nectarine trees to control
it. (Photo courtesy UC Statewide Integrated Pest Management)
It may be Thanksgiving, but it's time to talk peaches. In particular, this conversation is about peach leaf curl.
This common fungal disease only attacks peach and nectarine trees. It distorts and puckers foliage and new shoots. It can completely defoliate a tree, leaving any developing fruit to sunburn or shrivel. Over time, it greatly cuts down on a tree's productivity.
And it comes back, year after year after year. Once it's established, peach leaf curl will be an issue every spring.
The time to combat this fungus is not when you see its damage in April or May; it's now, in the days before and after Thanksgiving.
To control leaf curl, peach and nectarine trees benefit from dormant spraying with a copper fungicide or copper soap. Horticultural oil helps make that copper spray stick to the twigs and branches.
According to the UC Integrated Pest Management Program, the copper spray smothers the fungal spores that overwinter on the tree.
"The fungal spores that cause the disease spend the winter on twigs and buds and germinate in the spring," say the IPM experts. "For effective control, treat trees just after leaves have fallen, usually late November or December.
"A second application in late winter before buds swell can be considered, especially in areas with high rainfall or during wet winters. Don't apply fungicides during the growing season because they won't be effective."
A dry, calm and fogless almost-winter day; that's the perfect time to spray. And that's also the forecast for the greater Sacramento area this Thanksgiving weekend and early next week. Copper sprays need 24 hours of dry, calm weather before and after application. This is a good window of spraying opportunity.
If needed, prune before spraying. Pick up any dropped foliage and discard (don't compost). Those fallen leaves may carry leaf curl, too.
For more on treating peach leaf curl: http://ipm.ucanr.edu/QT/peachleafcurlcard.html