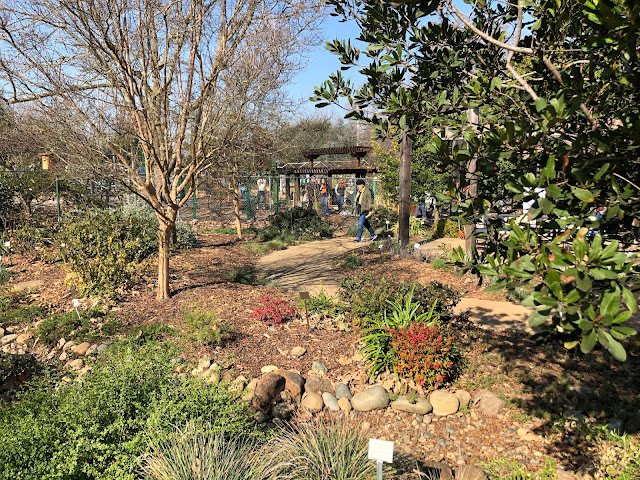 This is a portion of the Water Efficient Landscape Gardens at the Fair Oaks Horticulture Center. Now imagine it just after sunset, all decorated with holiday lights and displays and open for evening strolls. It's happening in December, thanks to the Sacramento County master gardeners. (Photo: Kathy Morrison)
Ready for some holiday magic? As a special treat by Sacramento's master gardeners, the Water Efficient Landscape Gardens at the Fair Oaks Horticulture Center will be lit up holiday-style for evening strolls on Mondays in December.
Colorful lights and other holiday displays will be on view from 5 p.m. to 8 p.m. on Dec. 6, 13, 20 and 27. Admission is free, but canned food donations are encouraged. Barrels for food collection will be at the entrance to the Horticulture Center, which is located next to Fair Oaks Park at 11549 Fair Oaks Blvd., just south of Madison. Plenty of parking fronts the site.
On Dec. 6 and 13 only, students from Fair Oaks Preschool will be caroling in the gardens from 5 to 5:30 p.m.
The Horticulture Center is the demonstration garden of the UCCE Master Gardeners of Sacramento County. The WEL gardens, which showcase drought-resistant plants, including California natives, are wheelchair-accessible with paved paths; the area is open seven days a week during daylight hours. The other parts of the FOHC are available to the public only during Open Garden events, which return in January.
The master gardeners' website, sacmg.ucanr.edu , will have information on special pop-up events accompanying "Bright Lights, Garden Delights." This holiday event is held in collaboration with the Fair Oaks Recreation and Park District.
-- Kathy Morrison