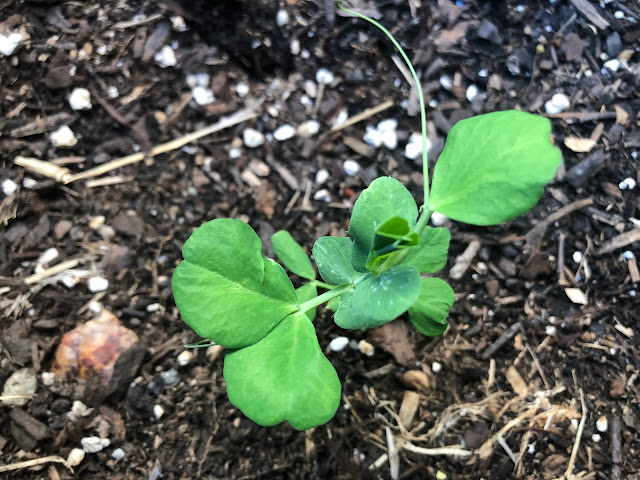 November mostly has been dry. Don't forget to water newly sprouted or transplanted cool-season vegetables such as peas, above. (Photo: Kathy Morrison)
Clear and crisp: Expect almost perfect weather for these final days of November and early December. As beautiful as it sounds for outdoor activities, that forecast also is foreboding – there's still no rain in sight.
According to the National Weather Service, Sacramento is stuck in a dry, relatively warm pattern for at least another week with highs in the mid 60s and overnight lows in the 40s. Our average high for early December is 54 degrees.
What that means for gardeners: There's still time to plant. Make the most of this sunny window to take care of pre-winter chores. Don't forget to water – the soil most likely has dried out since our last rains.
* Prune non-flowering trees and shrubs while they're dormant.
* Rake and remove dead leaves and stems from dormant perennials.
* Clean and sharpen garden tools before storing for the winter.
* Brighten the holidays with winter bloomers such as poinsettias, amaryllis, calendulas, Iceland poppies, pansies and primroses.
* Set out cool-weather annuals such as pansies and snapdragons.
* Lettuce, cabbage and broccoli also can be planted now.
* Plant garlic and onions.
* Plant more spring bulbs. Don't forget tulips chilling in the refrigerator!
* Bare-root season begins now. Plant bare-root berries, kiwifruit, grapes, artichokes, horseradish and rhubarb.