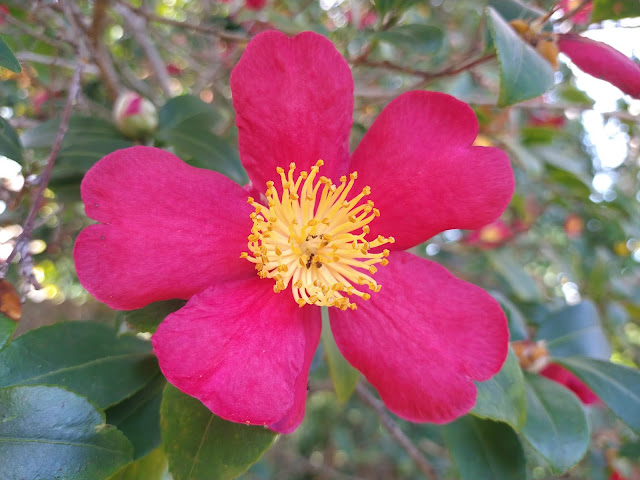 Here's a cheery sight on a gray day: a Sasanqua camellia, in full bloom this week, and ever since early October. (Photos: Debbie Arrington)
This season, Christmas camellias arrived early. Fortunately, there still are plenty to brighten our Sacramento holiday season.
Thanks to (mostly dry and warm) weather conditions, Camellia sasanqua started blooming locally in September. Several white-flowered bushes lining the K Street side of the Cathedral of the Blessed Sacrament were in full bloom two weeks after Labor Day. By October, many heritage bushes in Capitol and McKinley parks starting blooming, too.
My own trio of Yuletide camellias started opening their flowers in early October and are still going strong. That's more than eight weeks of flowers, and counting.
A close cousin to the February-blooming Japonica camellias, Sasanqua camellias usually blooms anytime from October to December. That's also earned this species another nickname: Fall-blooming camellias.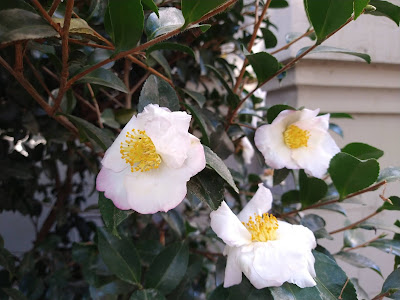 This Sasanqua camellia was blooming in October along the K Street side
of Cathedral of the Blessed Sacrament downtown.
Compared to Japonica camellias, Sasanquas tend to be a little smaller but still impressive – often 4 to 5 inches across. The individual flowers may not last as long as Japonica blooms, but there are so many, the Sasanqua bush seems continuously covered with color.
Another plus for Christmas camellias: They're intensely fragrant. (You can't say the same for most Japonicas.) Supporting beneficial wildlife, these fall and early winter blooms also provide food to bees and hummingbirds when fewer flowers are available.
With a reputation for hardiness, Christmas camellias can thrive in spots where Japonicas struggle. They can tolerate drought conditions and colder temperatures. Although they prefer filtered shade or dappled sunlight, Christmas camellias also can take more full sun than Japonica camellias.
Once cold rain begins to pelt the flowers, Christmas camellias start dropping their flowers in bunches. Pick up and dispose of those fallen flowers to help prevent petal blight, a fungal disease that turns camellia petals prematurely brown. Otherwise, those spores will hang around and infect the Japonica camellias getting ready to flower in February.
As landscape plants, Christmas camellias are long-lived (often several decades) and easy care. After flowering, they need little if any pruning; just remove dead wood and gently shape if necessary.
Then, feed Sasanqua bushes with an acid-type fertilizer formulated for camellias, which prefer slightly acid soils.
But don't feed your Japonica camellias until after they finish blooming in March. Feeding while camellias are in bloom (or about to bloom) may cause them to drop unopened buds.
Thinking about a gift plant? Christmas camellias can be found in bloom now in local nurseries. These bushes can be transplanted after they finish bloom and will continue to bring smiles for many years to come.
For more about growing camellias locally: https://www.camelliasocietyofsacramento.org/