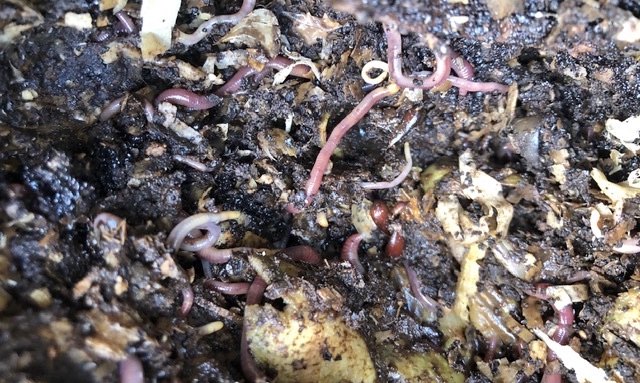 These red wigglers are working hard, creating the best soil amendment. (Photo: Kathy Morrison)
If your soil isn't healthy, your plants will have a hard, perhaps even impossible growing life.  The California Department of Food and Agriculture , along with UC Agriculture and Natural Resources , are using this week, through Friday, Dec. 10, to point out the importance of healthy soil to our ecosystem.
"Soil is alive with organisms that slowly grow or change depending on what is added, how the soil is used, and environmental conditions," notes Melissa Womack, communications specialist for the statewide UCCE Master Gardener Program. "Soil health, much like our own, is best improved gradually over time so focusing on regular or constant improvement helps achieve and sustain soil health. Adding certain practices into your gardening routine, such as incorporating organic matter, can be a great place to start."
Myriad resources on healthy soil are linked off the UCANR page where Womack's quote appears, including the topics covered throughout Healthy Soils Week.
I think this page, Healthy Soils - Basics , has lots of great information, including a quick quiz to test how much you know about soils. (Master gardener candidates study this intensely, and I still have to look up some of this information.)
Clicking on the For Homes & Gardens tab on that page brings up more specific and very useful information for the home gardeners, covering topics such as:
-- Common home soil problems
-- Practices to improve home soil
-- Soil pH and how to test it
-- Soil texture
-- Amendments
That last topic brings us to composting, which is one of the easiest ways to gradually improve your soil Compost add nutrients and beneficial microbes, holds water and improves plant growth. In fact, by using compost and organic matter, gardeners can reduce plant water needs by as much as 30 percent.
The Sacramento County master gardeners have written an excellent, very clear guide to composting, which you can find here .  They also have information, including photos, on this page .
Worm castings, in particular, are almost magical soil amendment. Just spreading it over the surface of your soil, and letting the nutrients percolate down via rainfall or irrigation, will improve the health of your soil in ground or in raised beds -- I can vouch for that. Here's a concise guide to worm composting .
And now I must go feed my hard-working worms.