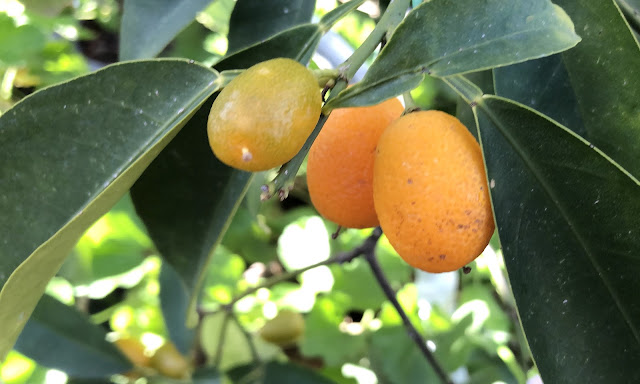 Kumquats are the most cold-hardy citrus. This Nagami kumquat tree only needs protection below 24 degrees, according to Four Winds Growers. Limes and lemons,  by contrast, should be protected below 32 degrees; harvest ripe fruit before it's damaged. (Photos: Kathy Morrison)
Happy New Year and, water-wise, we have reasons to celebrate.
According to the National Weather Service, California has received more rain and snow – 33.9 trillion gallons total – since Oct. 1 than we did all of the 2020-21 water year.
The Sierra snowpack is healthy, too. On Saturday, the UC Berkeley Central Sierra Snow Lab reported a record December snowfall: 214 inches.
Sacramento starts the new year cold and frosty. Widespread frost is predicted Saturday and Sunday nights; take precautions to protect tender plants. Pick ripe citrus.
Possible rain could materialize again Tuesday and Friday, says the weather service. Otherwise, days will be in the low 50s and overnight lows around 40 – otherwise pretty normal for January. This month averages highs of 54 degrees and lows of 39.
What should be on your New Year to-do list?
* Prune, prune, prune. Now is the time to cut back most deciduous trees and shrubs. The exceptions are spring-flowering shrubs such as lilacs.
* Now is the time to prune fruit trees. Clean up leaves and debris around the trees to prevent the spread of disease.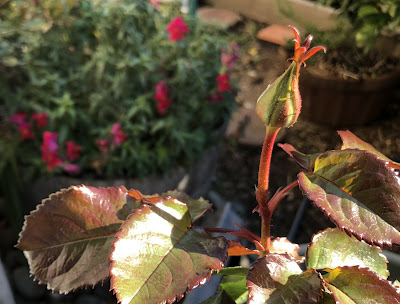 This Barbra Streisand rose has pushed out a new bud despite the
cold. The plant nevertheless needs to be pruned, and all remaining
leaves stripped off.
* Prune roses, even if they're still trying to bloom. Strip off any remaining leaves, so the bush will be able to put out new growth in early spring.
* Clean up leaves and debris around your newly pruned roses and shrubs. Put down fresh mulch or bark to keep roots cozy.
* Apply horticultural oil to fruit trees soon after a rain to control scale, mites and aphids. Oils need 24 hours of dry weather after application to be effective.
* This is also the time to spray a copper-based oil to peach and nectarine trees to fight leaf curl.
* Divide daylilies, Shasta daisies and other perennials.
* Cut back and divide chrysanthemums.
* Transplant pansies, violas, calendulas, English daisies, snapdragons and fairy primroses.
* In the vegetable garden, plant fava beans, head lettuce, mustard, onion sets, radicchio and radishes.
* Plant bare-root asparagus and root divisions of rhubarb.