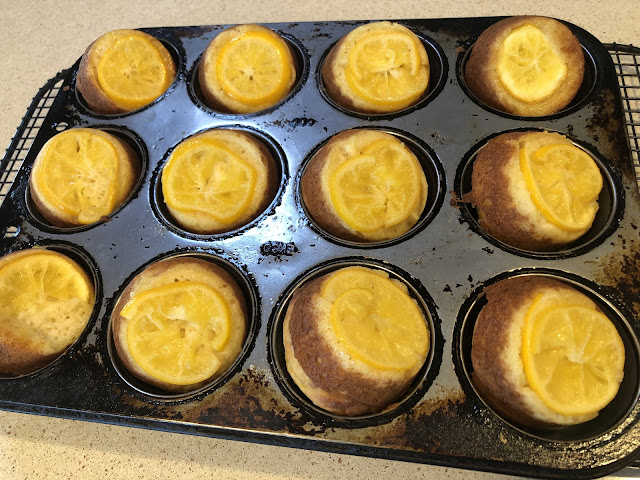 The muffins are flipped after baking, revealing the Meyer lemon slices on the
bottom. (Photos: Kathy Morrison)
Any bright, ripe citrus is welcome in winter, but I have a special place in my heart for Meyer lemons. Believed to be a cross between a mandarin and a lemon, a Meyer lemon is sweeter, more golden and more floral than a regular lemon. The relative lack of pith means Meyers can be eaten whole (OK, spit out the seeds), though I usually try to use the fruit as accents in savory dishes. It makes wonderful vinaigrette, for example.
However I haven't baked with Meyers as much as I'd like. I decided to change that when the crop ripened on my tiny backyard Meyer lemon tree.
But the baking recipes I came across were so loaded with sugar and other ingredients that I had to wonder if the creators had trusted the Meyer lemon's flavor. The fruit is sweet-tart; it doesn't need syrup AND glaze to make a delicious treat.
So I went back to an old cookbook, the Williams-Sonoma Kitchen Library "Muffins and Quick Breads," which has several citrus recipes. I decided to remake a recipe for Lemon Slice Muffins -- designed for tart lemons -- to feature my precious Meyers.
This recipe is a bit fussy, so you can skip the whole lemon-slice part if you want and just make the muffin batter. (I'd sprinkle some zest on top, in that case.) But if you love Meyers and want to show them off at brunch,  do try the muffins with the (lightly) sugared whole lemon slices baked on the bottom. Flipped over, they are like little spots of sunshine on a foggy day.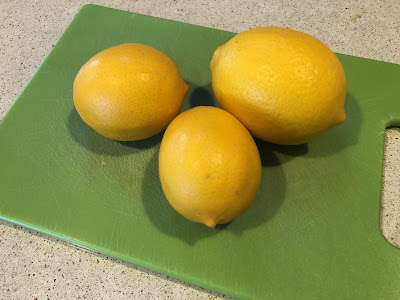 Meyer lemons are more golden than tart lemons
Meyer lemon slice muffins
Makes 12 muffins
Ingredients:
3 Meyer lemons, washed and dried
Butter or cooking spray for pan
1/4 cup granulated sugar, plus more for pan (alternatively, 2-3 teaspoons coarse sugar just for the pan)
1/2 tablespoon water
6 tablespoons butter
2 cups all-purpose flour
2 teaspoons baking powder
1/2 teaspoon baking soda
1/2 teaspoon salt
2 eggs, room temperature
1 cup milk, room temperature
Instructions: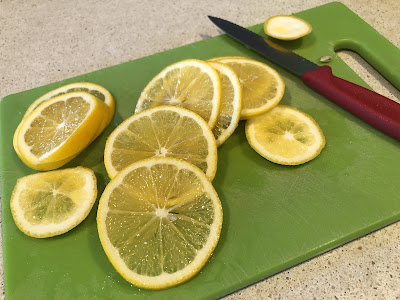 Cut thin slices of lemon and be sure to pop out any seeds.
Saving out the largest of the 3 lemons, grate the zest from the other 2. Squeeze half of one of the zested lemons to measure 1/2 tablespoon juice.
Combine the zest, the 1/4 cup granulated sugar, 1/2 tablespoon water and the 1/2 tablespoon juice in a small saucepan over medium heat. Stir until the sugar is dissolved, about 2 minutes. Add the 6 tablespoons butter and stir another minute so the butter melts. Remove from heat and set aside.
Preheat oven to 400 degrees. Butter or grease a standard 12-cup muffin pan. Sprinkle about 1/8 teaspoon granulated sugar or coarse sugar in the bottom of each cup.
Cut the stem end from the remaining lemon, then slice the rest of it very thin into 12 slices. Place one slice in each muffin cup, removing any seeds you come across. (I cut the large slices in half and overlapped them, but those didn't stick to the muffins as well, so I recommend just stuffing the larger slices whole into the bottom of the cups.)
Make the batter: Stir together the flour, baking powder, baking soda and salt. In a larger bowl, whisk together the reserved zest-butter mixture, the eggs and the milk until well-combined. Stir in the dry ingredients just until blended; small lumps are OK.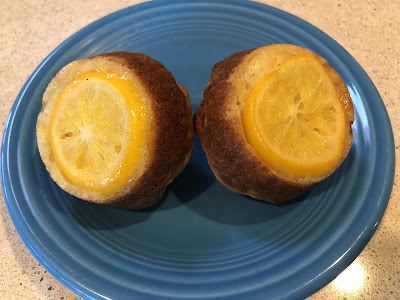 Meyer lemon slice muffins make a delicious brunch bread or
afternoon snack.
Divide the batter among the 12 muffin cups. Bake until a toothpick inserted in one comes out clean, 15-20 minutes. Remove the pan to a cooling rack. Let cool for a minute or two, then flip the muffins over with a knife or thin spatula. (Alternatively, put the cooling rack on top and flip the whole pan over at the same time.) You might have to retrieve a lemon slice or two, but they'll stick right back on. Serve muffins warm.
Here are links to other Meyer lemon recipes we've published the past 3 years:
Meyer lemon baked French toast
Pasta with Meyer lemon and herbs