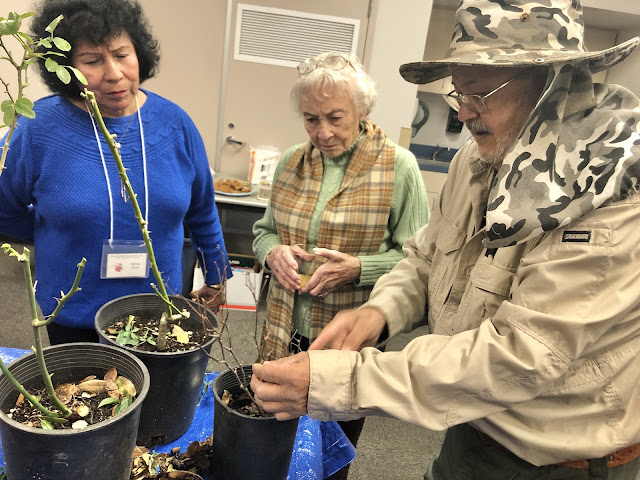 During the hands-on part of a pre-pandemic Winter Rose Care Workshop, Baldo Villegas, right,  demonstrates pruning techniques. This year's free workshop will be Saturday at the Orangevale Grange. Masks are required. (Photo: Kathy Morrison)
Can you prune a full-size rose bush in three minutes – or less? Baldo Villegas can – and he'll show you how.
Baldo's super-fast pruning method is one of the highlights of Saturday's annual Winter Rose Care Workshop, presented by the Sierra Foothills Rose Society. This year's workshop will be held in a new location: Orangevale Grange Auditorium, 5807 Walnut Ave., Orangevale. Admission is free; no advanced registration necessary.
The new site will allow for more social distancing. To comply with pandemic precautions, participants will be required to wear face masks.
Set for 9 a.m. to 1 p.m. Jan. 15, the workshop is designed for both new and experienced rose lovers. Learn the basics or refresh your skills.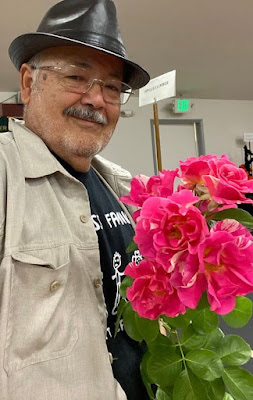 Baldo Villegas knows roses -- and their
pests. (Photo courtesy
Sierra Foothills Rose Society)
Doors open at 8:30 a.m. At 9 a.m., master rosarians will discuss proper pruning tools and their care. That's followed by pruning principles, tips for different kinds of roses and Baldo's speed method. His streamlined pruning tips grew out of necessity; Baldo grows more than 3,000 bushes in his Orangevale garden.
At 10 a.m., participants will get a chance at hands-on experience with groups devoted to pruning: hybrid teas and floribundas; old garden roses and polyanthas; shrubs and climbers; and miniatures and mini-floras.
At 10:45 a.m., get ideas on how to incorporate more roses into your landscape. At 11:45 a.m., Baldo – a retired state entomologist and Sacramento's Bug Man – leads a discussion on controlling pests and disease in the rose garden with time for answering questions. Got a mystery pest? Bring a photo or, better yet, a sample inside a Ziplock-type bag.
Rose questions of all sorts will be welcomed to round out this very full workshop.
Questions? Email Linda Knowles at  pathfinderrose@comcast.net.