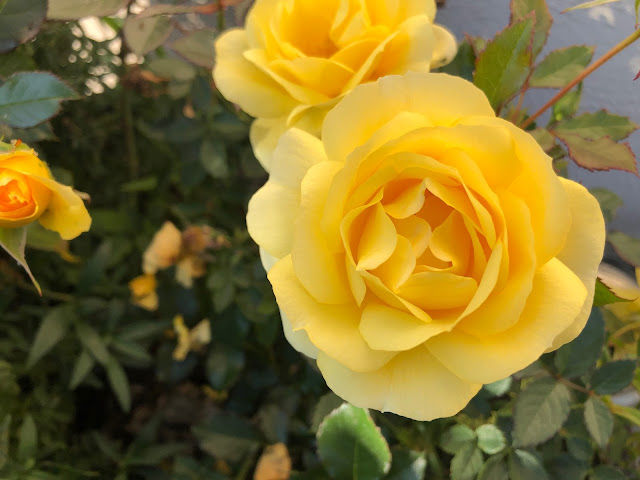 This Sun Flare floribunda rose apparently thinks it's spring, but it too needs to be pruned. (Photo: Kathy Morrison)
Great weather for gardening; not so good for drought watchers.
Our warm, dry streak continues with almost a week full of days in the 70s – and no rain in sight. According to the National Weather Service, Sacramento can expect sunny afternoons in the low 70s and overnight lows right around 40 degrees. Although those lows are normal, the highs are more than 10 degrees above average for early February.
Sacramento may even set some record highs this week, says the weather service. Sacramento's all-time hottest day in February: 76 degrees. In addition, little fog is in the forecast.
Take advantage of this warm spell and get your garden ready for an early spring:
* This is the last chance to spray fruit trees before they bloom. Treat peach and nectarine trees with copper-based fungicide. Spray apricot trees at bud swell to prevent brown rot. Apply horticultural oil to control scale, mites and aphids on fruit trees soon after a rain. But remember: Oils need at least 24 hours to dry to be effective.
* Finish pruning roses even if they're still blooming.
* Feed spring-blooming shrubs and fall-planted perennials with slow-release fertilizer.
* Feed mature trees and shrubs after spring growth starts.
* Remove aphids from blooming bulbs with a strong spray of water or insecticidal soap.
* Fertilize strawberries and asparagus.
* Transplant or direct-seed snapdragons, candytuft, lilies, astilbe, larkspur, Shasta and painted daisies, stocks, bleeding heart and coral bells.
* Transplant cabbage, broccoli, kale and lettuce (both loose leaf and head).
* Indoors, start peppers, tomatoes and eggplant from seed.
* Plant artichokes, asparagus and horseradish from root divisions.
* Plant potatoes from tubers and onions from sets (small bulbs). The onions will sprout quickly and can be used as green onions in March.
* From seed, plant beets, chard, lettuce, mustard, peas, radishes and turnips.
* Plant summer-flowering bulbs including cannas, calla lilies and gladiolus.