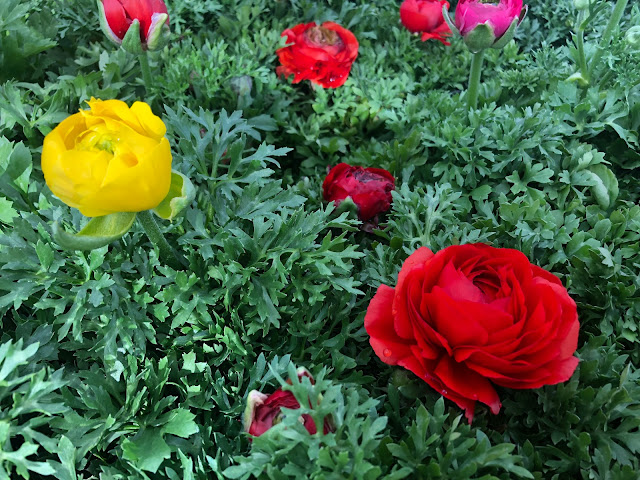 Can't beat ranunculus for adding pops of color to the garden. (Photo: Kathy Morrison)
When will we see rain? Apparently not until after we set another record.
A dry Monday – which looks extremely likely – will be Sacramento's 45th consecutive day without measurable precipitation, breaking the 44-day rainy season dry streak set in 1976.
We have had longer dry streaks during the summer, but this is the most days without rain when it really should be wet. Sacramento's last measurable rain – 0.05 inches – fell Jan. 7.
According to the National Weather Service, clouds – and hope – may be finally on their way. A storm system will pass over the valley to the Sierra on Monday night and Tuesday. Although mountain passes are expecting snow showers, Sacramento's chance of rain from that system is only 10%, says the weather service.
But next weekend, another storm system comes through and that one is more likely to deliver some rain. The weather service rates the chance of precipitation Sunday, Feb. 27, at 23%. Most of the first week of March is in the 20 to 25% range.
Meanwhile, frost is forecast Tuesday, Wednesday and Thursday nights this week. Some Sacramento suburbs may see overnight lows of 28 degrees.
Protect sensitive plants – and keep tender tomato and pepper seedlings indoors.
* Deep water shrubs, trees and perennials. Bulbs, which are rapidly blooming, could use a drink, too.
* Camellias also are coming into bloom. They usually don't need extra irrigation, but they will benefit from deep watering this season. Rake up any fallen blooms to cut down on petal blight.
* Feed spring-blooming shrubs and fall-planted perennials with slow-release fertilizer. Feed mature trees and shrubs after spring growth starts.
* Remove aphids from blooming bulbs with a strong spray of water or insecticidal soap.
* Fertilize strawberries and asparagus.
* Transplant or direct-seed snapdragon, candytuft, lilies, astilbe, larkspur, Shasta and painted daisies, stocks, bleeding heart and coral bells.
* In the vegetable garden, plant Jerusalem artichoke tubers, and strawberry and rhubarb roots.
* Transplant cabbage, broccoli, kale and chard as well as lettuce (both loose leaf and head).
* Indoors, start peppers, tomatoes and eggplant from seed.
* Plant potatoes from tubers and onions from sets (small bulbs). The onions will sprout quickly and can be used as green onions in March.
* From seed, plant beets, chard, lettuce, mustard, peas, radishes and turnips.
* Annuals are showing up in nurseries, but wait until the weather warms up a bit before planting. Instead, set out flowering perennials such as columbine and delphinium.