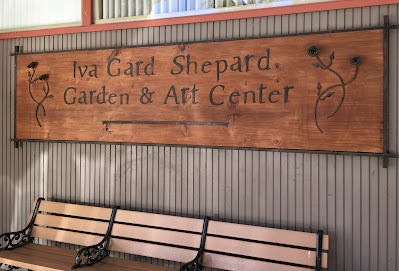 All the groups and clubs that call the Shepard Garden
& Art Center home will have booths with items for sale.
(Photo: Kathy Morrison)
Get instantly in the mood for spring with the return of this major gardening event: the Shepard Center's annual Spring Sale.
On Saturday and Sunday, March 5 and 6, the clubs that call Shepard Center home will offer plants, garden art, garden tools and equipment, books, crafts, ceramics, textiles, jewelry and antiques, and much more. In addition, several local artists will offer their work.
More than plants and products are available. This is a chance to meet representatives from several local clubs, get gardening advice or learn about a new hobby.
Admission and parking are free.
"Many of our clubs will be there along with artists and gardeners from our community," say the organizers. "Stay for lunch: Blessings Catering will be serving sandwiches, chips and homemade cookies and cake slices."
An added attraction: Stan the tool man! "Remember to bring your tools and things that need sharpening or drilling," add the organizers. "Stan Logan will be in the back room to provide these services; all proceeds will be donated to the Center."
Show hours will be 10 a.m. to 4 p.m. Saturday, 10 a.m. to 3 p.m. Sunday. Shepard Garden & Art Center is located at 3330 McKinley Blvd., Sacramento, in McKinley Park.
Details and directions: www.sgaac.org .